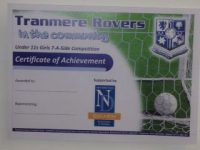 Things are heating up in the Boys Tranmere Rovers Football Tournament with tonight's round of matches being the last before the exciting final being held  Friday on 8th November 2013!
New Directions Education in Liverpool are sponsoring the tournament and will be attending the matches tonight to cheer all the teams taking part on.
Lisa Harper Branch Manager at New Directions Education who has been following the tournament commented "best of luck to all teams participating tonight, there has been some exceptional players who have taken part in the tournament.  A special mention needs to go out to Our Lady Star of the Sea from Ellesmere Port, Woodchurch Road Primary and Higher Bebington Juniors who all successfully got through to the next round."
New Directions Education Account Manager Jen Morrison who has been involved from the beginning added " I am so pleased with the enthusiasm involved from each participating school. It is great to be linked with Tranmere Rovers for such a good event and  I am keen to see who will win the final next week. So far the competition has been to such a high standard, I am sure tonight's teams will equal this. See you all there! "
Once again we have received lots of positive feedback about the tournament from the schools involved.
" We  are in it to win it! And enjoy it!"
Tony McMillan – Year 5 Class teacher/Organiser
Paul Hunter – Football Coach
Christ Church C Of E Primary School in Moreton
"The team are really looking forward to taking part. The boys involved are very enthusiastic about playing against other schools in a tournament linked with Tranmere Rovers."
Mr Davenport- Headteacher
St Josephs Catholic Primary in Birkenhead
"Our aim is to provide a stimulating and balanced PE Curriculum that engages all pupils and provides children with the knowledge and understanding of a variety of sports/activities that enhance their mental and physical well being."
Jenny Davis- Deputy Head
St Winefrides Catholic Primary, Neston
" Lets go Team Stanton! We always aim to do our best and are very proud of our team."
Mrs Lewin – Sports Coach
Kathy Pennington – Deputy Head
Stanton Road Primary
At New Directions Education we  take great pride in supporting our local communities, and providing support for the football tournament for local schools is just one of the ways we can do that.
Kick Off is 4pm today at Pensby Boys Astro Turf, Exciting times! New Directions Education will be there today to  cheer everyone on!  Who will be todays winner!?