Football Tournament – Girl's Under 11s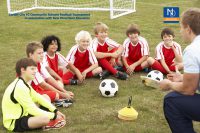 Please note, that this tournament has now ended.
New Directions Education is delighted to announce the launch of the Premier League Primary Stars Tournament Girls under 11s, in association with Cardiff City FC Foundation.
This annual event is a highlight of the sporting academic year for schools across the region. Last year over 100 teams took part to create a tournament packed with action and anticipation. Kelly Storer, Regional Manager for New Directions Education comments 'we are delighted to be able to once more support this competition. I am personally overwhelmed each year with the quality of talent we see on the pitch, and the real sense of sportsmanship between the competing teams. Female football is making major strides in 2018 and we are proud to support the ambitions of Welsh schools in contributing to this'.
Please download the Medical Consent Form to complete and take with you on the day. The competition rules are also available for your information.
Please note the details for this year's tournament:
Qualifying Dates: Tue 23rd October & Wed 24th October 2018
Finals Date: Tuesday 13th November 2018
Time: 9.00-15.00 (Qualifying), 9.00-14.00 (Finals)
Fixture List
23/10/2018
| School | Team Name |
| --- | --- |
| Aberdare Town Church in Wales Primary School | Aberdare Town Church in Wales Primary School |
| Birchgrove Primary | Birchgrove Primary |
| Bryn Awel | Bryn Awel |
| Coedpenmaen Primary | Coedpenmaen 2 teams please if possible |
| Coedpenmaen Primary | Coedpenmaen B |
| Coryton primary | Coryton primary |
| Dolau Primary School | Dolau Blues |
| Dolau Primary School | Dolau Primary School |
| Fochriw Primary School | Fochriw Stars |
| George Street Primary | George Street Primary 1 |
| George Street Primary School 2 | George Street Primary School 2 |
| Hendredenny Park | Hendredenny Park |
| Hywel Dda | Hywel Dda |
| Idris Davies | Idris Davies |
| Lakeside primary school | Lakeside primary school |
| Langstone Primary | Langstone Primary 1 |
| Langstone Primary | Langstone Primary 2 |
| Lansdowne primary | Lansdowne primary |
| Millbank Primary | Millbank Primary |
| Mount Stuart | Mount Stuart |
| Peter Lea Primary School | Peter Lea Primary School |
| Phillipstown Primary School | Phillipstown Primary School |
| Radnor Primary School | Radnor Primary School |
| Radyr Primary School | Radyr Primary School |
| St Bernadettes primary school | St Bernadettes primary school |
| Willowbrook Primary | Willowbrook Primary |
| Willowbrook Primary | Willowbrook Primary 2 |
| Ysgol Coed y Gof | Ysgol Coed y Gof |
| Ysgol Gymraeg Pwll Coch | Ysgol Gymraeg Pwll Coch |
| Ysgol Gynradd Gymraeg Tonyrefail | Ysgol Gynradd Gymraeg Tonyrefail |
24/10/2018
| School | Team Name |
| --- | --- |
| Alaw Primary School | Alaw Primary School |
| Bishopchilds church in wales | Bishopchilds church in Wales |
| Bishopchilds Church in Wales 2 | Bishopchilds Church in Wales 2 |
| Cadoxton Primary School | Cadoxton Primary School |
| Evenlode Primary School | Evenlode Primary School |
| Georgetown primary School | Georgetown primary School |
| Glan-Yr-Afon | Glan-Yr-Afon |
| Hawthorn primary llandaff north | Hawthorn primary llandaff north |
| Hawthorn primary llandaff north | Hawthorn primary llandaff north 2's |
| Hendre Junior School | Hendre Junior School |
| Llansannor and Llanharry Primary School | Llansannor and Llanharry Primary School |
| Llansannor and Llanharry Primary School | Llansannor and Llanharry Primary School 1 |
| Maerdy Primary | Maerdy Primary |
| pantysgallog primary school | pantysgallog primary school |
| Parc Lewis Primary | Parc Lewis Primary |
| Peterston-super-Ely Primary | Peterston-super-Ely Primary |
| Pontyclun Primary School | Pontyclun Primary School |
| Romilly Primary School | Romilly Primary School |
| Saint David's Church in Wales Pentwyn | Saint David's Church in Wales Pentwyn |
| St Mary the Virgin Church in Wales | St Mary the Virgin Church in Wales |
| St Patrick's Primary | St Pats FC |
| St Peters RC School | St Peters RC School |
| St.Francis R.C Primary School | St Francis Lions |
| Sully Primary | Sully Primary |
| Ton - Yr - Ywen Primary School | Ton - Yr - Ywen Primary School |
| Waunfawr Primary | Waunfawr Primary |
PLEASE NOTE: Due to the limited number of spaces on the U11's Girls tournament, schools can submit up to two teams but only one team will be guaranteed a space.

Cardiff International Sports Stadium (Athletics)
Leckwith Road
Cardiff
CF11 8AZ

Please arrive promptly, registration is open from 9.00-9.45am, Teacher's briefing at 9.45am, ready for kick-off at 10.00am. Group stages will finish at approximately 2.00pm.

Suitable footwear must be worn – no metal studs or bladed soles, moulded studs and trainers only. Shin pads MUST be worn. Please bring warm clothing as well as enough food and drink to keep you going throughout the day.

Information provided in the below form will be passed to Cardiff City Football Club and treated in accordance with our Privacy Policy.