Football Tournament – Mixed Under 11s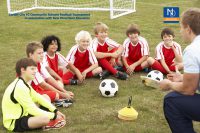 This tournament is now over.
New Directions Education is delighted to announce the launch of the Premier League Primary Stars Tournament for Mixed under 11s, in association with Cardiff City FC Foundation
This annual event is a highlight of the sporting academic year for schools across the region. Last year over 120 teams took part to create a tournament packed with action and anticipation. Howard Burge, National Director for New Directions Education comments
So here we are again at the annual New Directions and Cardiff City schools football tournament – this year has gone extra fast. This competition of course grows from strength-to-strength and we are all in anticipation of the talent we will witness on the pitch this year. Our team recognises what sport brings to young people – team work, co-operation and a real sense of community, we are proud to be able to support schools in engendering all of this.
Please download the Medical Consent Form to complete and take with you on the day. The competition rules are also available for your information.
Please note the details for this year's tournament:
Date: 8th – 22nd January 2019
Time: 9.00 – 14.00
Fixture Lists
08/01/2019
| School | Team Name |
| --- | --- |
| Coed Glas Community Primary School | Coed Glas |
| Evenlode Primary School | Evenlode Primary School |
| Evenlode Primary School | Evenlode 2 |
| Evenlode Primary School | Evenlode 3 |
| Gwauncelyn | Gwauncelyn |
| Gwauncelyn | Gwauncelyn 2 |
| Gwauncelyn | Gwauncelyn 3 |
| llandaff church in wales primary | llandaff church in wales primary |
| Millbank Primary | Millbank Primary |
| Rhiw Syr Dafydd Primary School | Rhiw Syr Dafydd Primary School |
| Springwood | Springwood |
| Ysgol Gymraeg Pen y Groes | Ysgol Gymraeg Pen y Groes |
09/01/2019
| School | Team Name |
| --- | --- |
| Aberbargoed Primary | Sporting Aberbargoed |
| Aberbargoed Primary | Aberbargoed Primary 2 |
| Cefn Cribwr Primary | Cefn Cribwr Primary |
| Cefn Cribwr Primary | Cefn Cribwr Primary A |
| Cwmfelin Primary School | Cwmfelin Primary School 1 |
| Cwmfelin Primary School | Cwmfelin Primary School 2 |
| Cwmfelin Primary School | Cwmfelin Primary School 3 |
| Dolau Primary School | Dolau Blues |
| Dolau Primary School | Dolau Primary School |
| Gwaun Y Nant | Gwaun Y Nant |
| Maesycwmmer | Maesycwmmer |
| Pentwynmawr | Pentwynmawr |
| Ysgol Y Ferch O'r Sger | Ysgol Y Ferch O'r Sger |
| ysgol y wern | ysgol y wern A |
| ysgol y wern | ysgol y wern B |
| Ysgol y Wern | Ysgol y Wern 3 |
10/01/2019
| School | Team Name |
| --- | --- |
| Bryn Awel | Bryn Awel |
| Cwm Ifor Primary | Cwm Ifor Primary |
| Hawthorn ,llandaff | Hawthorn ,llandaff A |
| Hawthorn,llandaff north | Hawthorn,llandaff north B |
| Hendredenny Park Primary School | Hendredenny Park Primary School |
| Idris Davies | Idris Davies |
| Kings Monkton School | 6 West Grove |
| Lansdowne primary | Lansdowne primary |
| llandough primary school | llandough primary school |
| Peterston-super-Ely Primary | Peterston-super-Ely Primary |
| Phillipstown Primary | Phillipstown Primary |
| Plasyfelin Primary | Plasyfelin Primary |
| Radnor Primary | Radnor 1 |
| Radnor Primary | Radnor 2 |
| Romilly Primary School | Romilly Primary School |
| Severn Primary School | Severn Primary School |
| Severn Primary School | Severn Primary School B |
| St.Francis R.C Primary School | St.Francis R.C Primary School |
| Sully Primary School | Sully Primary School |
| Twyn School | Twyn School |
| Twynyrodyn Community School | Twynyrodyn |
| TYLORSTOWN PRIMARY | TYLORSTOWN PRIMARY |
| Whitchurch Primary | Whitchurch Primary |
| Whitchurch Primary | Whitchurch Primary 2 |
| Ysgol Coed y Gof | Ysgol Coed y Gof A |
| Ysgol Coed y Gof | Ysgol Coed y Gof B |
| Ysgol Glan Ceubal | Ysgol Glan Ceubal Football |
| Ysgol Rhyd y Grug | Ysgol Rhyd y Grug |
| Ysgol Treganna | Tregann 1 |
| Ysgol Treganna | Ysgol Treganna 2 |
| Ysgol Treganna | Ysgol Treganna 3 |
15/01/2019
| School | Team Name |
| --- | --- |
| Abercynon community primary school | Abercynon community primary school |
| Alaw Primary School | Alaw Primary School |
| Birchgrove Primary | Birchgrove Primary |
| Birchgrove Primary School | Birchgrove Primary School 2 |
| Blackwood Primary School | Blackwood Primary School |
| Cardiff Muslim Primary School | CMPS |
| Coryton | Coryton |
| Fairwater Primary School | Fairwater |
| Hywel Dda | Hywel Dda |
| Lakeside primary school | Lakeside primary school |
| Llanedeyrn Primary School | Llanedeyrn Primary School |
| Llanishen Fach Primary | Llanishen Fach Primary Team 1 and Team 2 |
| Llanishen Fach Primary | Llanishen Fach Primary 2 |
| Llanyrafon Primary School | Llanyrafon Primary School |
| Llwyncrwn Primary School | Llwyncrwn Primary School |
| Maesybryn Primary | Maesybryn Primary Whites |
| Maesybryn Primary School | Maesybryn Primaryl Blues |
| Maesybryn Primary School | Maesybryn Primary Yellows |
| Pencoed Primary School | Pencoed Primary School |
| Pencoed Primary School | Pencoed Primary School B |
| Saint Davids Church in Wales Primary | Saint Davids |
| St John's College | St John's College |
| St Patrick's RC Primary | St Pat's |
| St Patrick's RC Primary | St Pat's B |
| Ton Yr Ywen Primary School | Ton Yr Ywen Team 1 |
| Ton Yr Ywen Primary School | Ton Yr Ywen Team 2 |
| Ysgol Berllan Deg | Ysgol Berllan Deg 1 |
| Ysgol Berllan Deg | Ysgol Berllan Deg 2 |
| Ysgol Gynradd Gymraeg Abercynon | Ysgol Gynradd Gymraeg Abercynon |
| Ysgol Llanhari | Ysgol Llanhari |
| Ysgol Pwll Coch | Ysgol Pwll Coch A |
| Ysgol Pwll Coch | Ysgol Pwll Coch B |
16/01/2019
| School | Team Name |
| --- | --- |
| Aberdare Town Church Primary | Aberdare Town Church Primary |
| Bishopchilds primary school | Bishopchilds primary school |
| Bryngwyn campus | Bryngwyn campus |
| Caedraw Primary School | Caedraw Primary School |
| Cross Ash Primary | Cross Ash Primary |
| Cwmfelinfach Primary School | Cwmfelinfach Primary School |
| Darran Park Primary | Darran Dynamos |
| gelli primary school | GPS |
| George Street Primary | George Street Primary Team A |
| George Street Primary | George Street Primary Team B |
| Gladstone Primary | Gladstone FC |
| Gwaunmeisgyn Primary School | Gwaunmeisgyn Primary School |
| Lliswerry Primary | Lliswerry Primary |
| Llysfaen Primary School | Llysfaen Primary School |
| moorland primary | moorland primary |
| Oakfield Primary School | Oakfield Primary School |
| PENDOYLAN C/W PRIMARY | PENDOYLAN C/W PRIMARY |
| Pentrepoeth Primary School | Pentrepoeth Primary School |
| Pontyclun Primary School | Pontyclun Primary School |
| Rhydypennau primary school | Powell Lesley-Anne |
| Rogerstone Primary | Rogerstone Primary |
| Rogerstone Primary | Rogerstone Primary 2 |
| Rumney Primary Cardiff | Rumney Primary Cardiff |
| St David's RC Primary Cwmbran | St David's RC red |
| St Josephs's RC Primary, Penarth | St Josephs' Penarth |
| St Mary the Virgin Church in Wales Primary | St Mary the Virgin Church in Wales Primary |
| St Mellons CiW Primary School | St Mellons CiW Primary School |
| Ty Sign Primary | Ty Sign Primary |
| Waunfawr Primary School | Waunfawr Primary School |
| YNYSDDU PRIMARY | YNYSDDU PRIMARY |
| Ysgol Pencae | Ysgol Pencae |
| Ysgol Santes Tudful | Ysgol Santes Tudful |
17/01/2019
| School | Team Name |
| --- | --- |
| Albany Primary School | Albany Primary School |
| Bryn Primary | Bryn |
| Crickhowell Community Primary School | Crickhowell Community Primary School |
| Crindau Primary School Newport | Crindau Super Stars |
| CWMLAI PRIMARY SCHOOL | CWMLAI PRIMARY SCHOOL |
| Dowlais Primary School | Dowlais Primary School |
| Hendre Junior School | Hendre Junior School |
| Hendreforgan Community Primary School | Hendreforgan Community Primary School |
| Kitchener Primary School | Kitchener Primary School |
| Litchard Primary School | Litchard Primary School |
| Maesycoed Primary | Maesycoed 1 |
| Maesycoed Primary | Maesycoed 2 |
| Maindee Primary School | Maindee Primary School |
| Malpas Church Primary School | MCPS |
| Mount Stuart | Mount Stuart |
| Padre Pio School | Padre Pio School |
| Parc Lewis Primary | Parc Lewis Primary |
| Penllwyn Primary School | Penllwyn Primary School |
| Penybont Primary School | Penybont Primary School |
| Peter Lea Primary School | Peter Lea Primary School |
| Sketty Primary | Sketty Primary |
| ST Athan Primary | Tathan tigers |
| ST MARYS RC BRYNMAWR | ST MARYS RC BRYNMAWR |
| St. Mary's & St. Patrick's R.C. Primary School | St. Mary's & St. Patrick's R.C. Primary School Team A |
| St. Mary's & St. Patrick's R.C. Primary School | St. Mary's & St. Patrick's R.C. Primary School Team B |
| Willowbrook Primary School | Willowbrook 1 and Willowbrook 2 |
| Willowbrook Primary School | Willowbrook Primary School 2 |
| YGG Tonyrefail | YGG Tonyrefail |
| Ysgol Gynradd Gymraeg Nant Caerau | Ysgol Gynradd Gymraeg Nant Caerau |
PLEASE NOTE: Due to the limited number of spaces on this tournament, schools can submit up to two teams but only one team will be guaranteed a space.

Cardiff International Sports Stadium (Athletics)
Leckwith Road
Cardiff
CF11 8AZ

Please arrive promptly, registration is open from 9.00am, Teacher's briefing at 9.45am, ready for kick-off at 10.00am. Group stages will finish at approximately 2.00pm.

Suitable footwear must be worn – no metal studs or bladed soles, moulded studs and trainers only. Shin pads MUST be worn. Please bring warm clothing as well as enough food and drink to keep you going throughout the day.

Information provided in the below form will be passed to Cardiff City Football Club and treated in accordance with our Privacy Policy.

xyz:11

New Directions will process the data you provide in accordance with our Privacy Notice.