Football Tournament – Mixed Under 11s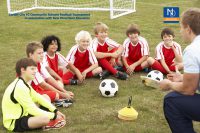 New Directions Education is delighted to announce the launch of the annual 2017-18 Football Tournament in association with Cardiff City FC Foundation.
This annual event is a highlight of the sporting academic year for schools across the region. Last year over 120 teams took part to create a tournament packed with action and anticipation. Howard Burge, National Director for New Directions Education comments 'So here we are again at the annual New Directions and Cardiff City schools football tournament – this year has gone extra fast. This competition of course grows from strength-to-strength and we are all in anticipation of the talent we will witness on the pitch this year. Our team recognises what sport brings to young people – team work, co-operation and a real sense of community, we are proud to be able to support schools in engendering all of this'.
Please download the Medical Consent Form to complete and take with you on the day. The Kids Cup rules are also available for your information.
Please note the details for this year's tournament:
Date: 5th December 2017 – 23rd January 2018
Time: 9.00-14.00
05/12/2017
06/12/2017
07/12/2017
16/01/2018
17/01/2018
18/01/2018
PLEASE NOTE: Schools may enter up to three teams for consideration in this competiton.

DEADLINE FOR REGISTRATION:

December Dates: 1st December 2017
January Dates: 12th January 2017

Cardiff International Sports Stadium (Athletics)
Leckwith Road
Cardiff
CF11 8AZ

Please arrive promptly, registration is open from 9.00am, Teacher's briefing at 9.45am, ready for kick-off at 10.00am. Group stages will finish at approximately 2.00pm. Please be aware that knock-out stages may finish post 3.00pm so please make suitable arrangements.

Suitable footwear must be worn – no metal studs or bladed soles, moulded studs and trainers only. Shin pads MUST be worn. Please bring warm clothing as well as enough food and drink to keep you going throughout the day.