We're going for the World Record!
Join us as we go for the World Record for the BIGGEST EVER  sign language lesson during Sign Language Week 2022.
Date: Thursday 17th March 2022
Time: 2pm to 3pm
Location: Microsoft Teams
After the huge success of last year's Biggest Ever Sign Language lesson with over 2,700 attending it's back and bigger than ever, as this year we are going for the official World Record!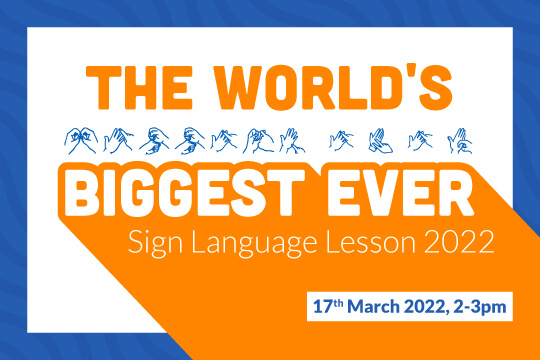 About the event
At New Directions we're extremely excited to deliver our very popular sign language lesson with a twist. Many of you will already be aware of the training courses we deliver to schools free of charge with our own accredited trainer Derek Tune, however to support Sign Language Week 2022 we're keen to do something special and therefore host the BIGGEST EVER sign language lesson.
The lesson, suitable for schools (from Year 3 and older), businesses and individuals, will take place on Microsoft Teams, where Derek will spend an hour teaching you basic sign language and then finish up with everyone signing a popular song.
For us, these lessons not only raise awareness and encourage thousands of people to learn a new language, but they also play a significant role in creating all sorts of opportunities for increased engagement and inclusion for those with communication difficulties.
Let's make this a lesson to remember, and truly make a difference to people's lives!
Help us spread the word and use hashtag #Signuptosign on your social media posts – we'd love you to post about your involvement in this exciting event.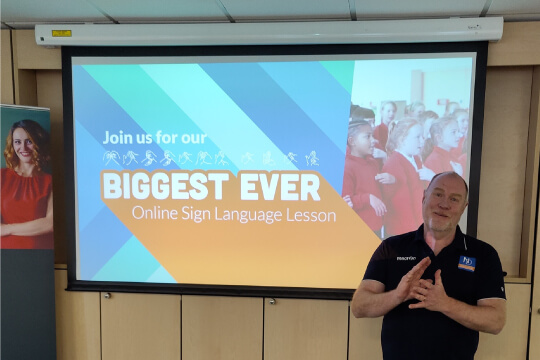 Book your place
Simply fill out the quick form below to confirm your place on our BIGGEST EVER online sign language lesson.