Our Values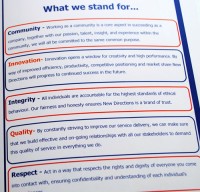 New Directions has been embedded within the recruitment and training sector since 1994. We have grown into a UK wide organisation because of our people. We never compromise on quality and we aim to offer the most competitive service to all of our communities. As the New Directions group of companies continue to grow, it is important to celebrate the values we work towards delivering as a business.
Our values – what we stand for …
Community

Working as a community is a core aspect in succeeding as a company, together with our passion, talent, insight, and experience within the community, we will all be committed to the same common purpose.

Innovation

Innovation opens a window for creativity and high performance. By way of improved efficiency, productivity, competitive positioning and market share New Directions will progress to continued success in the future.

Integrity

All individuals are accountable for the highest standards of ethical behaviour. Our fairness and honesty ensures New Directions is a brand of trust.

Quality

By constantly striving to improve our service delivery, we can make sure that we build effective and on-going relationships with all our stakeholders to demand this quality of service in everything we do.

Respect

Act in a way that respects the rights and dignity of everyone you come into contact with, ensuring confidentiality and understanding of each individual's circumstances.