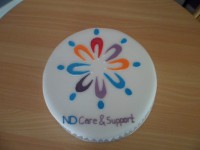 The Ebbw Vale branch of New Directions Care & Support has celebrated its first birthday. The company, which is a service provider for individuals with specialist care needs, has reached this milestone by placing over 50 staff members into employment.
The team is based within the Innovation Centre at Victoria Business Park, which is run by UK Steel Enterprise, part of Tata steel. The former British Steel site has been set up as part of an economic regeneration project for the area.
Odette Flower, Branch Manager and her team are exceptionally proud at being able to invest in the region. Just over three years ago Blaenau Gwent was reported to have had the highest rate of unemployment in the UK. Odette comments "We offer a really bespoke provision to our clients. No matter the region or area, there are individuals with specialist care needs that require support. We are glad to be able to help add gravitas to the economy and deliver a vital service".
With unemployment in Wales currently standing at 8.9% the team have been able to place people like Leonie Madden into employment, she says of New Directions "I have been consistently employed by the team for coming up to ten months. The role is really rewarding, not only personally, but professionally too. Our area deserves investment and the service sector is one way of encouraging that".
The team also worked with the local job centre, recruiting Rhys Jones through the 'work trials' programme. Initially employed for an eight week period to gain knowledge of the industry, he then secured a three month contract supporting the team within the office. Rhys comments "This has been a fantastic experience; I feel I have been given a chance to prove myself at a time when young people are really struggling to find work".
New Directions Care & Support have received great support from the team within the Innovation Centre, also the venue for the birthday celebrations. In attendance at the event was Rhiannon Lloyd from the Innovation Centre, Deborah Gibbons from the Blaenau Gwent Partnership and John Andrews, Group Director of Operations for New Directions Holdings who said of the occasion "We are delighted to mark this birthday, the team have worked hard in supporting Ebbw Vale and the surrounding communities. We have high hopes for the coming 12 months".