New Directions Recruitment
New Directions is a group of companies offering specialist recruitment and training services to key employment sectors.
2017 has started in the same vein as last year with a number of trophies already collected…
Cardiff Business Awards – Highly Commended – Jeff Tune, Company Chairman
Winner of Wales HR Awards – HR Professional of the Year – Sophie Cecil, Group HR Director
Shortlisted for Wales HR Awards – HR Assistant of the Year – Melissa Hale, Group HR Assistant
Shortlisted for Cardiff Life Awards – Professional Services Company of the Year
Winner of Acquisition International Awards – Best in Education and Domiciliary Recruitment UK
2016 was an exceptionally successful year for New Directions. We won the following awards:
Winner of Acquisition International 'Most Outstanding Recruitment Training Services Company' Excellence Award 2016
Winner of 'Best Company to Work For (under 250 employees)' at the IRP Awards 2016
Highly Commended for 'Best Service' at the Go Wales Awards 2016
Winner of 'Innovation and Excellence' Award at the Corporate Live Wire Awards 2016
Winner of 'Best Recruitment and Training Services – Wales' at the Business Excellence Awards 2016
Winner of 'Best Recruitment Agency' at the Regional Awards 2016
Shortlisted as the 'Best Professional Services Company' at The Cardiff Life Awards 2016
Winner of 'Best Compliance Team' at The Women in Compliance Awards 2016
Winner of 'Supplier of the Year' at the Welsh National Procurement Awards 2016
Shortlisted for 'Community Award' at the Welsh National Procurement Awards 2016
The group has a combined turnover in excess of £25 million and employs around 150 staff in offices across the UK. The business operates in the following towns and cities:
Aberystwyth, Bangor, Bridgend, Bristol, Brynmawr, Cardiff, Cross Hands, Liverpool, Manchester, Swansea, Wirral and Wrexham.
For further details on any of our subsidiary companies please click the relevant links.
New Directions is committed to creating a safer more sustainable recruitment service than ever before, we support the 'Safer Jobs' initiative: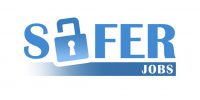 "To stay safe in your job search we recommend that you visit SAFERjobs, a non-profit, joint industry and law enforcement organisation working to combat job scams. Visit the SAFERjobs website for information on common scams and to get free, expert advice for a safer job search.