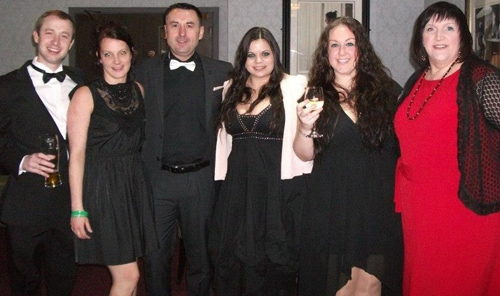 On Friday the 12th of April 2013 the New Directions Social Care team attended the Welsh Women's Aid black tie gala event. The team got suited and booted for an evening of fun which included a raffle, a charity auction and entertainment.
The annual black tie gala was held at the Vale hotel and resort, to raise money for the Welsh women's aid charity. New Directions Social Care has worked closely with the charity for a number of years.
The evening began with a drinks reception at 7pm, followed by an opening speech by Welsh international rugby player Adam Jones. This was followed by a three course dinner, raffle and charity auction (including a chair from the James Bond Skyfall set signed by Daniel Craig!). The evening was topped off with entertainment from comedian James Mullinger.
Sarah Blackmore Head of Social Care at New Directions commented 'The Women's Aid event was an amazing success and the whole team really enjoyed the evening. Although the evening was a chance to celebrate the success of the charity, it was also a chance to reflect on the number of people the charity has helped. Working in the Social Care sector we are aware of the amount of people who need to access the help of charities like Women's Aid and as a company we are proud to support them'.
Welsh Women's Aid campaign and lobby for improvements in policy and legislation in relation to domestic abuse in Wales. They have been working in Wales since 1978 acting as an umbrella organisation for Women's groups in Wales.