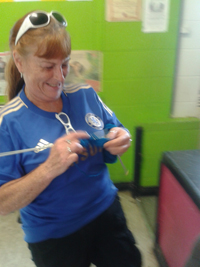 Deb Stanbury has been working in the social care sector with New Directions for nearly a year now, in that time Deb has had the opportunity to work in many different environments. Deb contacted New Directions recently to share her experiences working within the care sector.
Deb who recently started working at a play centre commented 'I am enjoying working with the children so much and I am actually wondering when the work starts as I seem to be having too much fun. All the children are amazing to look after and every day is different'
Sarah Blackmore, Head of Social Care at New Directions added 'it is amazing for us to have passionate people like Deb working for us. The staff are regularly contacted by our candidates about how much they enjoy their jobs. Too often people feel that working within the care sector is a daunting experience however as Deb will testify working in social care is both fulfilling and rewarding.'
New Directions Social Care is a recruitment and training provider to the social care and nursing sectors. Whether you are looking for short or long-term, supply or permanent work, our team can offer advice, guidance and introductions to key clients within the social care sector. From older persons, adults to early years and youth working, we employ a team of individuals who hold knowledge and understanding of specific areas within social care. To find out more contact Our Social Care team.