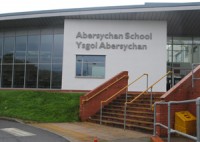 Kirsty Knowles from New Directions Social Care is working with Careers Wales as an Ambassador to help individuals gain skills in their job search.
As part of her role as an ambassador Kirsty visited pupils at Abersychan Comprehensive where Career Wales had organised a careers day, pupils were given the opportunity to practice their interview and application techniques.
Group Communications Assistant Mehnaz Khan and Kirsty Knowles, from New Directions spent the morning interviewing pupils for a mock job position, in order to help develop and assess their skills for the working world.
The year 11 volunteers had to submit an application form along with their CV's before attending an interview. After the interview all pupils were provided with constructive feedback to help them with their future job prospects.
Kirsty Knowles, Sales Consultant from New Directions Social Care commented 'The pupils at Abersychan school were very well prepared for their interviews, they answered questions well and took on feedback we gave them'
Claire Herbert a teacher from Abersychan school who helped organise the project added 'I would very much like to thank New Directions for taking part in the Interview Project. The pupils really enjoyed it and the feedback is very positive. I think it was a very worthwhile activity and would love to run it again next year.