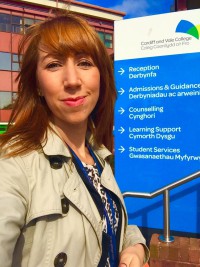 Students from the Barry area have secured full time employment, directly from their time at Cardiff and The Vale College with the help of a local recruitment and training specialist.
The childcare students who completed level 2 and 3 courses over a two year period at the college's Barry campus have been signposted into employment by Vicky Paul, a recruitment specialist for New Directions Social Care.
Vicky, a Barry girl herself understands the journey the students have taken; she says 'I attended this very college myself a few years back. I also completed an early year's diploma before starting my own career working in a nursery. To come back to the place I trained and to help these students start their own careers is very humbling. I am delighted to be adding to the prosperity of the region'.
The New Directions Social Care team have been working closely with the College to support level 2 and 3 childcare students with advice about job searching post education. Helen Middleton, tutor at the college said 'Vicky has since been to the college on a number of occasions to offer advice and support to our level 2 and level 3 childcare students. She has been very supportive and has actually helped to arrange a number of interviews for my level 3 students who are due to complete their course in a few months' time. I am very pleased to say that these students have since been offered full time employment. Vicky has been very helpful and supportive throughout the whole process and is constantly in touch with new opportunities for the students as and when they arise'.
New Directions Social Care has sign posted over 1,000 individuals into employment in the region in the past 12 months. Sarah Blackmore who heads up the organisation said 'Our team is 100% committed to ensuring that the childcare sector in this country thrives. To partner with the college is a wonderful opportunity to marry up young people to local employers. We hope to continue the relationship for many years to come'.