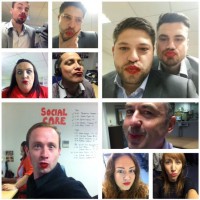 On Friday 1st May, our Social Care team got involved with #RedLippyDay, a campaign run by Dementia UK. The campaign was set up by a Dementia UK fundraiser to help raise money and awareness for this great charity who support those living with and affected by dementia.
Sarah Blackmore, Head of Social Care for New Directions said 'We always support campaigns for the Social Care sector. It's at the heart of our own company values to support the communities we work within. Just at this moment in time we recruiting heavily for care assistants and have a lot of work available working with older persons. This campaign fitted our drive to support the needs of the elderly sector. Throughout the day our team was able to promote job vacancies, training opportunities inline with the Dementia campaign'.
If you would like to support this campaign, you can donate online, or by texting PUCK82 and the amount you would like to donate to 70070. Eg., 'PUCK82 £5'.
Please visit www.dementiauk.org for further information.