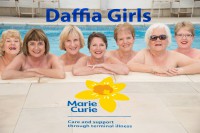 New Directions Social Care work closely with a number of nurseries across South Wales. Nursery Manager, Jacqui Kempa is part of the Marie Curie Penarth and Vale fundraising committee. Made up of 12 local women, they decided to take on the brave challenge of recreating the WI calendar girls, named 'Daffia Girls'.
The cost of the calendar has been covered by a number of local businesses, meaning all the funds raised will go directly to Marie Curie. Marie Curie provides care and support for people living with a terminal illness, and their families across Wales.
Vicky Paul, Account Manager for New Directions comments, "When Jacqui called me to tell me she was doing the calendar, I thought it was fantastic! We had a giggle about it; I told her she was going to be my most famous Nursery Manager! It is for such a great cause, it took a lot of planning, preparations and time and the outcome is fantastic."
Community is an important part of the culture at New Directions and we like to support any charity work that our clients get involved in. The calendar is priced at £5 and will be sold in the local area.
To purchase a copy of the calendar, please email [email protected]k or [email protected].
To learn more about the work of Marie Curie, please visit www.mariecurie.org.uk.