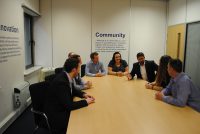 A national recruiter has opened a new regional office in Alexandra House in the heart of Swansea in a direct response for staffing demands across the region.
New Directions Social Care is an award winning recruitment agency with current bases in Cardiff and Bristol. The team have now taken the step to commit to servicing Swansea and West Wales with a new permanent home in the prominent city centre building, sharing the space with other big employers in the area such as Virgin Atlantic, Remploy, British Red Cross and TUI UK and Ireland.
Omar Salmman who heads up the team said of the new base 'we have worked with clients and candidates across the region for a number of years. In the last year we secured the agency care staff contract for All Wales Support to Gwalia – a specialist housing and care service provider and this really cemented our decision to set down roots in Swansea. We have a large number of clients looking to recruit for their teams throughout the area, so inevitably we wanted to become more accessible, more approachable and a bigger part of the community in this region'.
The business will work to signpost people looking for jobs within the social care sector – from shelters to care homes covering a range of services. The Swansea team currently employs over 100 people and are now looking to hear from Mental Health Support Workers, Housing Officers, Residential Support Workers, Hostel Support Workers and Care Assistants to join the team.
Sarah Blackmore, Head of New Directions Social Care commented on the new venture 'over the recent three to four years we have grown year on year at a rate of around 15% in the Swansea and West Wales region. We have always serviced the area from our Cardiff head office and smaller regional hubs. We have taken our time, built relationships with the communities we work with here, and now we want to feature as a permanent fixture. This move heralds our confidence in Swansea as a city, as an employer and as a serious challenger on an international business front'.
In October 2016 New Directions became the first recruitment agency in Wales to be awarded the Investors in People Gold status. This alongside a plethora of business awards throughout 2016 has ensured a successful year for the Welsh employer.