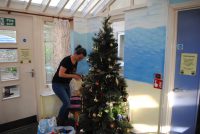 A leading recruitment and training firm in the South West has stepped up to make a difference this year at a Bristol-based homeless shelter.
New Directions Social Care has worked with St Mungo's – a charity that provides around 2,600 beds for those who are homeless or at risk, and who work to end homelessness.
Speaking about their contribution, Kirsty Knowles, branch lead for the New Directions Bristol office said 'we have worked to support St Mungo's for some time now. When I visited them in September this year, they talked about their plight at Christmas. In a nutshell, at that time they simply wanted to decorate one of their shelters in the south of the city. They had a donor offering lots of decorations to brighten up the shelter; they simply needed willing bodies to actually decorate.
Sadly, the supermarket offering the decoration donation pulled out. It was then that we had to step up and act quickly. My colleagues didn't disappoint – friends and members of the social care community donated trees, baubles and tinsel in abundance'.
The team visited the hostel on the 7th December and met with residents and staff as they decorated the 21 bed facility. Sarah Blackmore, Head of New Directions Social Care added 'our team has a big heart; yet again they stepped in to help make a small difference to the people at the shelter this Christmas. Additionally we also donated 30 shoe boxes filled with toiletries and a few luxuries that we hope will make the festive period at the shelter a little easier for the residents'.
Helenka Paluch-Machnick who manages the South Bristol project for St Mungo's said 'We were all so delighted to have the ND Social Care Team come and decorate the hostel! A number of our residents joined in and it has really spread some Christmas cheer throughout the project. We are really grateful for all the kind donations and can't wait to give out the shoe boxes on Christmas Day. Thank you all'.
New Directions was recently announced as winner of 'Best Company to Work For' at their governing body – the Recruitment and Employment Confederation (REC) – Institute of Recruitment Professionals Awards. This comes in a year that the team was also awarded Investors in People (IIP) Gold status.
Sarah adds 'we are an organisation who lives our values. Of course we work to provide a recruitment service to the social care sector, but we do it with integrity and always with the best interests of our community at the heart of what we deliver, this is what makes us IIP Gold'.
New Directions Bristol will continue to work with St Mungo's throughout 2017 as their appointed charity for the year.