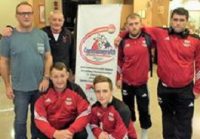 New Directions Social Care celebrates a wonderful and diverse community. From those we work to support to those who work out in the field as part of our team.
In November this year Ken Harris, who works as a Support Worker in young person's services for our organisation demonstrated a flair for his other passion – wrestling.
Ken took part in the Commonwealth Senior Wrestling Championship in Singapore in the 'under 97kg' weight group. This was Ken's first competition outside of the UK, and he entered the tournament with an open mind, aiming to gain as much experience as possible.
After a determined performance Ken finished his group in fifth place. Liam Healan, Senior Recruiter for New Directions who works with Ken said 'we are all so proud of Ken's efforts, he really represented his team with a tenacity and passion. He is a popular Support Worker and we know if he employs half the effort into his wrestling pursuits as he does his work with our team he will continue to be a success'.
Ken is looking for sponsorship from any organisations who would like to help him pursue his wrestling ambitions. If anyone is interested in finding our more, please contact [email protected]