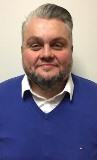 In February 2017 New Directions Social Care welcomed a new member to their team. We met with him recently to find out more about how he will add to the team and what his favourite pizza topping was…all very important matters in our community.

Tell us about your background prior to join our team…
I previously worked as a Team Leader for Gwalia in supported accommodation for people who have suffered with substance abuse.
What made you change your focus from within the sector delivering such a vital service to supporting recruiting the best people for the social care environment?
I had worked closely with Omar (Swansea office lead) whilst working in Rhondda Cynon Taff and thought it was an exciting opportunity and a new challenge. New Directions seem like a positive company to work for.
What do you hope to bring to a very established team?
I hope to bring a different set of knowledge to the team having 13 years' experience on the front line and 5 as a manager.
N.B. we are very excited about this…
What region will you be covering?
I will be working to support the Adult Social Care for East Wales.
What do you think are the biggest challenges facing the sector?
Staffing – it is an increasingly competitive market for the best staff. Everyone is fighting for the good employees. I am discovering that New Directions Social Care are perfectly positioned to help counteract this!
Describe yourself in 3 words…
Experienced, persistent, caring
A perfect list for our community we think…
OK, the game-changer – what is your favourite pizza topping?
Ham
(he passes…)