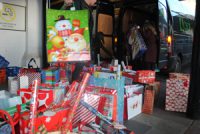 New Directions Social Care have once more rallied to help provide over 250 gifts for children in South Wales this coming Christmas.
The business has worked with the Mr X Appeal Swansea charity initiative since 2013. The festive drive encourages individuals to donate a gift for a child who may be in difficult circumstances this yuletide. The team did not disappoint.
Leah Seltzer, Head of Compliance and Quality Assurance for New Directions spearheads the challenge annually. She said 'firstly I can't believe we are here again one year on with so many gifts to donate. Sadly in the last 12 months we lost the original Mr X after many great years of work. However, his legacy lives on and in 2017 our team have done him proud once more. Record numbers of gifts again, record participants and above all a real demonstration of team togetherness at a time when every young person deserves a treat'.
New Directions Social Care work to support young people through their recruitment and training of support workers to drive positive outcomes in a variety of settings. Sarah Blackmore, Director for the organisation said 'throughout the year our team works hard to give back to the communities we are ensconced within. From donating blood, raising funds for elderly persons charities and rallying around those that need it most at critical times. However, more than that we want to raise awareness for the entire social care community. Yes, we are a team with a heart – but we also know how important it is to ensure the issues that impact our sector most are at the forefront of conversation'.
In 2016 New Directions were awarded Investors in People (IiP) Gold status after a period of growth, investment and innovation. Ruth Dalton, Group Head of Communications and Marketing added 'watch out 2018 – our commitment to corporate social responsibility is about to become more powerful and more important than ever before'.
For more information about registering for work with New Directions Social Care visit this page…