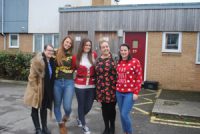 A Bristol-based recruitment firm has come to the call of a homeless shelter for a second successive year.
New Directions Social Care have once more worked in partnership with St Mungo's – a charity aimed at ending homelessness and rebuilding lives to make one of their south west based hostels a little more cheery this festive season.
Speaking about their contribution, Kirsty Knowles, branch lead for the Temple Meads based social care recruiter said 'last year we worked with St Mungo's when they wanted to decorate a hostel in the city. Our teams across the South West and South Wales combined forces and collected in excess of 10 large boxes of Christmas decorations'.
kirsty continues 'we knew that adding a bit of tinsel to the shelter would go some way to giving residents a sense of Christmas, but we wanted to do more. In true New Directions style our staff rallied and created over 30 shoe boxes worth of gifts for residents to enjoy a little bit of luxury'.
This year the team were invited back once more to help another of the shelters in the city, doubling their donations and providing 30 more shoe boxes of toiletries and essentials for the residents of Christmas 2017.
A spokesperson for St Mungo's said 'this will make such a difference at the hostel. It's lovely to see so much good will at this time of the year'.
New Directions Social Care have operations across Bristol, Cardiff and Swansea. Director for the organisation Sarah Blackmore added 'we work within such an important community, and with such importance comes great responsibility. Our teams recognise the the ongoing plight of the social care sector in England and Wales, and beyond our recruitment work we wanted to give something back. The St Mungo's project is a no brainer for us, the work the staff carry out on a daily basis humbles us, we wish them all a peaceful yuletide'.
For more information about the work St Mungo's carry out visit their website.