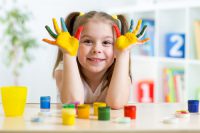 Many parents of young children face tough decisions upon their little ones' arrival into the world. After the highs (and lows) of maternity and paternity leave comes the decision on what to do next. When the time to return to work comes, we need to make calculated decisions on what to do with our little darlings. From relying on family members (if you are lucky enough to have them on hand and energised) to child minding services to private nurseries.
Our team work with many registered private nurseries and have done so for many years. We have worked to supply qualified, competent and compliant staff. Equally we have worked to signpost childcare students into new posts within the sector. Check out one success story we had in Barry – click here…
Many of our colleagues have children of their own and work full-time to support their families. We spoke to some of those people to find out what sending their child to a private day care facility meant to them. From peace of mind to getting on the curriculum ladder. Look at their responses:
It gave utter peace of mind…
My son was born in 2013, and not being a Cardiff native, therefore not having any family in the area to rely on, I had to carefully consider my choices for childcare. Colleagues and good friends had repeatedly recommended a private nursery in Canton – St Aubin's.
I came back to work when my son was six months old. I was nervous and exceptionally anxious about leaving him. Colleagues will laugh as they tell you I used to call the nursery at least three times a day in his first year there to check how he was getting on. I needn't have worried. My child thrived in nursery. From a positive approach to trying new foods to learning about dealing with new people and other children.
He is now in pre-school and attends the nursery two afternoons a week. I would have to say that our nursery of choice really set him up for the school environment. He is confident and eager to learn. It was a tough decision, but I am convinced we made the right one.
Ruth Dalton, Group Head of Communications and Marketing
Another of our colleagues chose the child-minder route to ensure her young son was well looked after when she returned to work.
Joined up thinking between parents and day care
I went back to work when my son was eight months old. It was a scary prospect leaving him, however many mothers at our local baby and toddler group recommended a certain childminder.
My son started attending Lindsey's Little Stars and I can honestly say it was the best decision I could have made for him. He has thrived there, he is extremely advanced with his speech and at his recent two year check he is speaking at the level of a three-and-a-half-year-old. He is confident and very social, and I honestly believe it has been through his interactions with children of varying ages at Lindsay's. She carries routines from home through to his childcare days and it results in a very joined up approach to my little ones' care.
I believe private childcare whether that be with a nursery or childminder is very important to a child's development. It can be a scary world for babies and toddlers and having expert advice on hand through the staff within the childcare sector is crucial for parents and children alike.
Kirsty Knowles, Branch Lead, New Directions Social Care, Bristol
Day care was the best option for Director of New Directions Social Care as she embarked upon life as a single parent. Sarah tells us more of the extended support she received from her daughter's nursery.
Developmental milestones in a nursery setting
As a single parent, I had no option but to return to work after six months maternity leave. As a first-time mother, I wanted to know that my daughter would be happy and looked after; my daughter absolutely thrived in full time day care.
Whilst making friends and being entertained all day with more activities than I could have offered, she also started to learn so much. The nursery potty trained my daughter, as all the children copied each other, her interaction with other children and adults taught her how to share, play nice and respect others.
She was so behaved at meals times and other parents would complement her on her manners. My daughter's development was absolutely supported by the nursery, and her transition to school was effortless. My daughter is now 12 and we still miss and are very thankful to the staff at St Aubin's.
Sarah Blackmore, Director, New Directions Social Care
LaingBuisson's Children's Nurseries UK Market Report (13th edition) reported that by Mid-June 2014 15.7% of all under-fives in the UK were attending nursery. The report identifies a growing economy and more mothers in full-time employment than ever before.
Our business has the pleasure of working with nurseries to support their recruitment objectives and our teams take the greatest of pleasure in finding out more about how they operate. We are proud to work alongside a sector that allows for not only the development of our young people, but one that offers both mothers and fathers alike the opportunity to get back into the workplace to enhance their own careers for the future.
If you are interested in hearing more about working within the childcare sector – check out our latest live vacancies here…