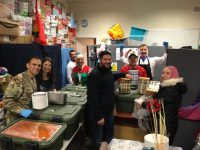 This week, Omar and Samantha from our Swansea branch have been helping out at The Swansea Homeless Sanctuary, a homeless drop in centre, hosting their Christmas lunch which provides over 60 homeless people with a warm cooked meal. There were many great organisations and charities pitching in to pull off this day for the homeless.
Omar and Sam delivered warm clothes donated by friends, family and work colleagues, which were gratefully received by the centre. The Swansea New Directions team also donated Christmas crackers to help make the tables festive and were invited to serve the Christmas lunch, alongside the army, for more than 60 homeless people.
Swansea Homeless Sanctuary have been doing some fantastic work in the city to ensure the homeless have a place to stay at this time of year. Since 2010 they have been providing a range of services to support people who are experiencing homelessness and social exclusion.
We have also pledged to help Homeless Hope, a charity that supports many drop-in centres throughout the UK including The Swansea Homeless Sanctuary.
We are supporting Homeless Hope by selling silver ribbons at our Head office and local Swansea branch. The money will go directly back into the centre to provide the homeless with hot drinks, meals and warm clothes.
If you would like to help this worthwhile charity, please drop by our Swansea branch to buy a silver ribbon or call us on 01792 620190 to donate.
Thank you to everyone who donated winter clothes to help the Swansea Homeless Sanctuary.