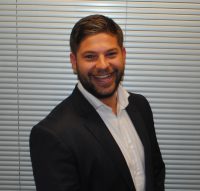 As you already know, the ND Social Care team are hugely passionate about giving something back to the local community, not just through their everyday work, but by giving up their own time outside of work too. It's no wonder they won the New Directions 'Community Value' award earlier this year!
This month, we want to shine the spotlight on our Local Hero, Omar, from the ND Social Care Swansea branch, who has recently taken his first steps into the rewarding world of volunteering in his local community. Every Friday morning, Omar is giving up his time to help local charity Matt's Café as a volunteer Food  Collector.
What is Matt's Cafe?

Matt's Café is part of Matthew's House – a charity that helps support the homeless throughout Swansea by providing them with meals and a safe place to socialise, offering a sense of hospitality and hope. With a shocking 1,160 households in Swansea recorded as homeless or threatened with homelessness, the work carried out by Matthew's House is critical. Omar first heard about the charity when attending a Pobl Trust event a few months ago and he has been following their great work helping the homeless in Swansea ever since. When he saw a Facebook advert calling for volunteers to help Matthew's House on a weekly basis, Omar felt that this was something he could do to make a real difference and contribute to the fight against homelessness in his free time.
Every week, Omar collects food donations from a Tesco store in Swansea Marina before delivering it all to Matthew's House. Here, the food is weighed and frozen on the premises in preparation for the days when Matt's Café is open to the public. The café intercepts food waste that is destined for landfill and uses it to feed those who need it, as part of The Real Junk Food (TRJF) project – a network of national and international cafes with a common goal to 'feed bellies, not bins.'

Matt's Café has three key aims:
To reduce food waste
To feed those with or without funds
To provide opportunities for those who are long-term unemployed
Without volunteer Food Collectors like Omar, the amazing food donations from local stores and supermarkets in the city would never make it through the doors of Matthew's House, meaning it would all go to waste, and the homeless community of Swansea would not benefit from it. Therefore, Omar's role and all the other volunteer Food Collectors are vital to enabling Matt's Café to achieve their aims.
Omar explained that he is "passionate about helping the homeless" and he has previously enjoyed being involved in helping different charities around the Christmas period. Despite wanting to get more involved with volunteering, finding enough time was a challenge. However, Matthew's House and Matt's Café provided the ideal opportunity to contribute on a more regular basis because the Food Collector role only requires volunteers to give up a small amount of time each week. Being able to help Matthew's House every week is something that Omar feels very proud of and we are proud of him too.
If you are interested in volunteering, it is easy to get involved. To find out more, visit matthewshouse.org.uk. You can find lots of information about Matt's Café and Matthew's House, or complete the online application form to express your interest in volunteering. Your help and support would be greatly appreciated!