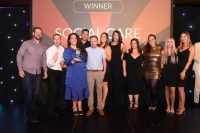 We are proud to announce that the ND Social Care team have recently been presented with an exciting 'Community Award' at the annual New Directions Celebrating Success Conference. The award recognises individuals or teams who have demonstrated significant work, support, engagement, activity and contributions within their local community.
The awards ceremony took place on 12th July, with ND Social Care going up against several other strong nominations in competition for the highly coveted 'Community Award'. Being a key provider of staff supporting vulnerable people in the community, The ND Social Care team makes a difference to many people's lives 365 days of the year. Each of the ND Social Care team has made outstanding contributions to the local communities in Cardiff, Swansea and Bristol, making them worthy winners.
With a passion for all social care issues, the team has gone above and beyond to raise awareness of current social issues, to provide support in the community and to promote change in the sector. Working across children's services, adult's services, housing and older person's services, the team consistently provides key staff in residential homes, homeless hostels, nursing homes and more. With 'community' being one of our core company values at New Directions, it underpins everything that the ND Social Care team does.
Company Director Sarah Blackmore stated: "We are absolutely delighted to win the Community Award of the Year at this year's conference. 'Celebrating Success 2019' was a great day/evening recognising the hard work and achievements of all staff at New Directions. The Social Care team work incredibly hard in a challenging sector – we are committed and very passionate about the work that we do and we place the communities we work within at the heart of our business. To be nominated by our colleagues and winning the award was a fantastic accolade. I am very proud of my teams."
Community work
ND Social Care thrives on making a difference to the lives of people in the local community. Over the past year, the Social care team have been involved in numerous projects and activities that have made a significant impact. Some of the fantastic community projects that ND Social Care have been involved in over recent years include:
The prize
In addition to receiving the accolade, the ND Social Care team were rewarded for their commitment and hard work with a trip to Cardiff Aqua Park – Wales' biggest inflatable water park located in Cardiff Bay this summer. It is a well-deserved treat after all the hard work the team has invested in good causes. Stay tuned to our social channels for picture evidence!