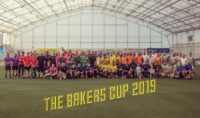 Last month, Gareth from the ND Social Care Cardiff branch played a starring role in organising a successful community fundraising event known as the Baker Cup, for the second time. We are extremely proud of Gareth for embodying the New Directions company value of 'community' both inside and outside the workplace. He strives to give something back to his local community and make a real difference to the lives of others, as demonstrated by his recent Baker Cup event. We have therefore chosen to make Gareth our September Local Hero, in recognition of his valuable contribution to the local community!
Introducing the Baker Cup
The Baker Cup event was first hosted in 2015, in honour of raising funds for a very special cause – to support a local family during one of the toughest times of their lives. Four years ago, Gareth's good friend Kevin, a keen and well-loved fellow-footballer, was diagnosed with pancreatic cancer and underwent a huge operation which had a long recovery process. The Baker Cup raised money to support Kevin and his family throughout his treatment, operation and recovery process, helping to make this difficult time somewhat easier and less stressful for them, wherever possible. The event was a phenomenal success, raising vital funds for the family. Kevin bounced back to health surprisingly quickly and was soon back on the pitch enjoying the sport he loves best.
However, just four years down the line, Kevin's cancer has very sadly relapsed and he is now undertaking intensive chemotherapy. Gareth and his friends decided once again to put on another charitable Baker Cup event to help raise funds to enable Kevin to spend time with his family and enjoy quality of life during his treatment.
Match Day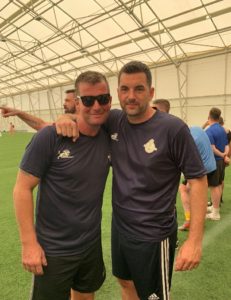 The event weekend was full of sport, fun and games. Saturday 24th August saw a friendly warm-up match between the Pentwyn Dynamos and Llanederyn Wanderers. Kevin had the honour of taking the penalty kick to level up the scores at the end, resulting in a 3-3 equaliser ahead of the big match day.
The Baker Cup tournament took place the very next day, on Sunday 25th August in the House of Sport at Cardiff City Stadium – a venue that welcomes community and charity events at the heart of our city. The friendly, yet competitive football tournament started at 9 am and carried on through the day until 5 pm. Despite the charitable nature of the tournament, things still became highly competitive, resulting in Kevin breaking his toe in the first game when he became a little too over-competitive… but this didn't put a dampener on his day! The celebrations continued long into the night, with everybody in good spirits and making a memorable day for Kevin and his family.
There was a fantastic turnout for the Baker Cup. Over 100 players took part in the football tournament, and there was a total turnout of over 200 people including the family and friends who came to support the event and cheer from the side-lines. It was a huge success and the event was enjoyed by all, with family-friendly activities, a buffet and a raffle with fantastic prizes. This included signed football shirts, boxing gloves and rugby shirts; a Land Rover experience; beauty vouchers; clothing vouchers and more.
Gareth commented:
The whole purpose of the Baker Cup was to generate a decent sum of money to enable Kevin and his family to do what he wants and live it up without the financial burden, and that was well and truly achieved!

Having a young family just like Kevin, I knew and recognised straight away that, going forward from his diagnosis, the most important thing was to make as many memories as possible with family and friends and really live life to the full while he still can.

This is what really fuelled me and my friend Jay to push the Baker Cup second time around and the response we had was simply breath taking! From people donating amazing prizes and buying and selling raffle tickets, cakes and drinks, to people purchasing certain things for silly money in an auction… the list goes on. It was simply an amazing community effort from all.

The day ran smoothly thanks to those involved in organising the day. It then continued into the evening where the celebrations took place to finish off a great event in style. This gave us all an opportunity to catch up with a lot of faces that we no longer get see so often these days. Overall, it was an amazing outcome for an amazing guy!
Following the Baker Cup, Gareth was thrilled to announce that the event raised almost £8,000 for Kevin and his family, which will undoubtedly make a huge difference for them all throughout his treatment. The family were amazed by the generosity of their local community and at ND Social Care, we are proud of Gareth's fantastic contribution to such a good cause!