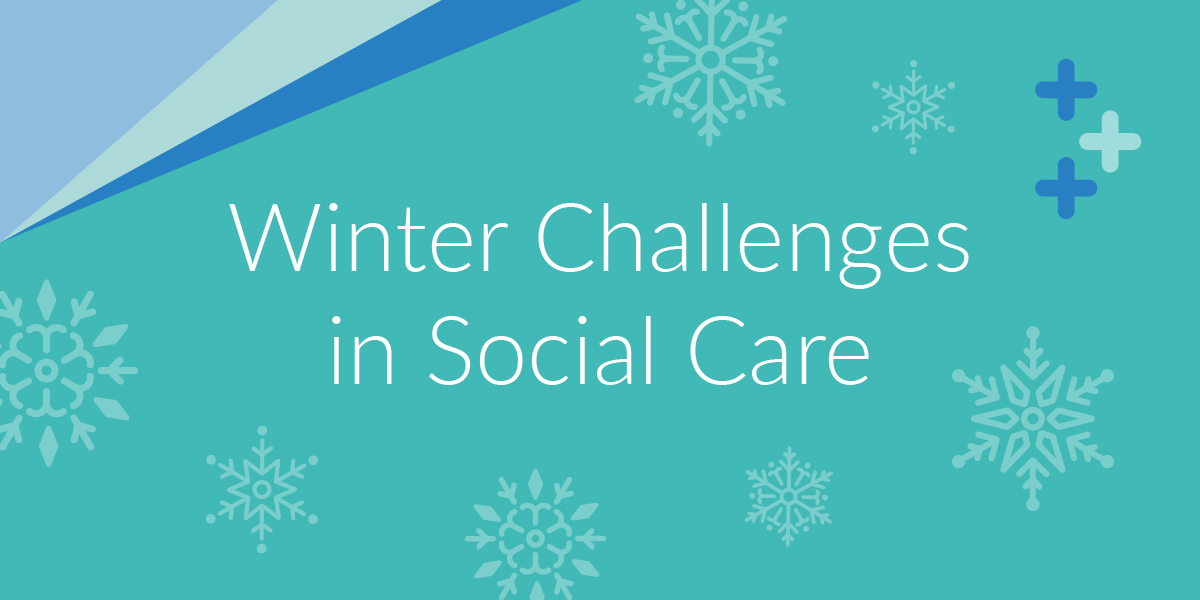 Winter is a time of festivities and celebrations, but it isn't always an easy time of year for all. When most of us are enjoying some time off at Christmas with our families, Care Workers are working hard to provide vital support to those they care for, even if that means being away from their own families. Meanwhile, winter can also be a time of struggle for some of our service users at ND Social Care, including the elderly and the homeless. Read on for our top tips to tackle winter challenges in social care.
Keep Warm
In the winter months, it can be tempting to avoid putting the heating on to keep your energy bills as low as possible, but beware of frozen pipes – keep any outdoor pipes and taps insulated to prevent problems and get your boiler and heating system serviced by a qualified Gas Safe engineer to avoid a boiler break down. Aim to keep your room temperature between 18-21C and if you have a wood, coal or gas heater, double-check that these areas are well ventilated. These appliances can emit carbon monoxide, a colourless, odourless gas that is dangerous to our health. For safety, invest in a carbon monoxide alarm too, which is cheap, easy to use and provides peace of mind in preventing deadly carbon monoxide poisoning.
Financial help – there is help available for heating costs for those who need it, with grants for winter fuel payments and a cold-weather payment too, plus many other ways to keep yourself and your home cosy and warm. You can use blankets and high tog duvets throughout the winter months, opt for hot food and drinks instead of cold, use hot water bottles, wear extra layers and close curtains to keep the heat inside and drafts out.
Stay Safe
Dark evenings can be a worry for shift workers and vulnerable members of the community, especially when it's cold and icy outside. It's a good idea to buy some grit salt to sprinkle on paths and driveways to prevent slips and falls. You can also invest in a timer switch so that your outside light comes on when you need it if you're returning home late after a shift.
When travelling out into the community to attend care calls, it is handy to keep a torch in your car to help find your way, and you should pack some emergency supplies in case the weather turns cold.  Include blankets, wellies, food snacks like high-energy cereal bars, bottled water and a snow shovel to help you out of a tricky situation.
Drive Carefully
Adverse weather conditions make driving more dangerous, so you need to take extra care in wintry weather when its windy, wet and icy. Ensure your car is cleared of ice and snow before setting off, drive slowly and be sure to get your car serviced ahead of the winter weather. Give yourself extra time for car journeys so that you don't have to rush – traffic can get bad when the weather deteriorates. Plan your journey ahead and check the road conditions using a website or handy traffic and travel app.
It is a good idea to get breakdown cover and roadside assistance too, so if anything happens, help is just a phone call away and you won't be stranded in the cold.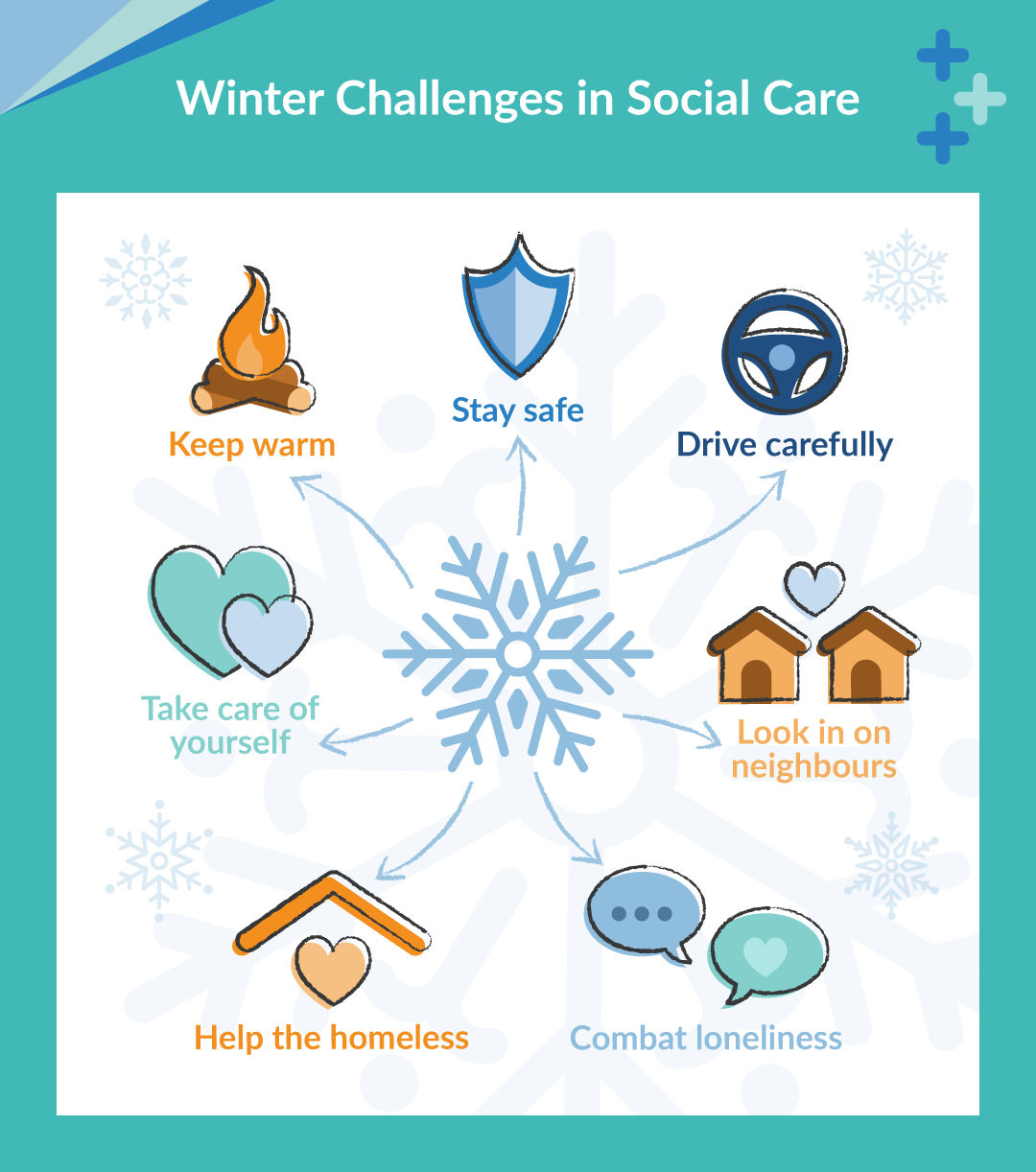 Take Care of Yourself
Winter is a time when colds and viruses spread easily, but you can protect yourself by getting the flu jab free of charge. The flu vaccination is free for anyone who works in frontline health and social care, as well as at-risk members of the public. You simply need to contact your GP to find out more.
Maintain good hand hygiene by washing your hands thoroughly and using ant-bacterial hand gel to prevent the spread of infection. This is a simple, yet effective method for protecting yourself and vulnerable members of the community from colds, viruses and the flu.
Look in on Neighbours
It is important to check on vulnerable people during winter months, especially the elderly who may be housebound in freezing weather. Take the time to call or knock on their door to make sure they are coping. They may need a little extra help to get some shopping supplies or medicines in, and a kind neighbourly gesture goes a long way.
If you are concerned about an elderly neighbour or relative, Age UK has lots of great advice, information and support.
Combat Loneliness
During the winter months, many elderly people avoid going out, which means they may become very isolated and at risk of feeling lonely. Loneliness can have a huge impact on wellbeing, but it is avoidable. Simple acts such as calling an elderly relative once a week and occasional visits to an elderly neighbour for a cup of tea will make a big difference.
As a Care Worker, you might even be the only person that your service user comes into contact with all day. This makes it even more important to be friendly and cheerful while you deliver care. Taking the time to tell stories, make everyday conversation, ask questions and listen will make a huge difference to their day.
Help the Homeless
This winter let's not forget about the homeless who may be struggling with all the challenges we've highlighted, with the added pressure of not having a place to call home. You can help the homeless in several ways, including:
Donating unwanted warm clothes to a homeless hostel if you have a clear-out before Christmas
Sending an alert to the StreetLink App when you come across a homeless person, to connect them with local charities who can help them
Offering a hot drink or meal to a homeless person, or even just stopping for a friendly chat
Or donating to charities like the Wallich instead of buying Christmas cards, to help provide essential support services.
When we are approaching the festive period, it's all too easy to get caught up in the celebrations and lose sight of those who might be struggling. Share our top tips to help each other through the winter season this year!
We have a community of over 400 live Carers and Support Workers who are making a difference to people in their local communities. Join them by registering with ND Social Care today.