Alternatively, do you own your own business yet still have that desire to make a difference in the care industry? No problem! You can do both!
Working on supply with us at New Directions Social Care gives you the flexibility to work around other professional aspirations or commitments, whilst still developing a sustainable career in the care industry.
Intrigued? Why not hear from two of our inspiring Support Workers, who have worked with us for many years, whilst managing their own businesses.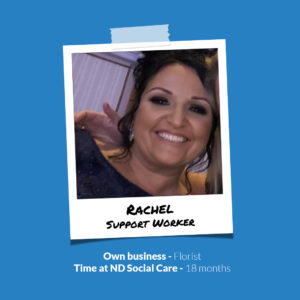 Rachel, Support Worker / Business Owner
Rachel has worked as a Support Worker with New Directions Social Care for over 18 months. She grew up in the flower business with her parents owning a local shop and just followed suit opening her own, but it was not what she wanted to do as a career.
Rachel says: "I always wanted to be a social worker so when I hit 40, I took the leap and started working in a children's residential home as a Support Worker for New Directions whilst continuing to manage my business.   The flexibility of shift work was great and really allowed me to have the best of both worlds.  In 2018, I started my level 3 Children and Young People Course (is there an official name for this course) and now I have completed that I can't wait to get started on Level 5."
Rachel has maintained and developed her business whilst fulfilling her career dreams of working in social care.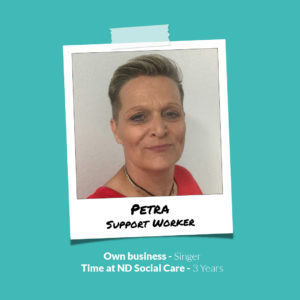 Petra, Support Worker / Entertainer
Petra has worked for New Directions Social Care for 3 years now. She originally started off as a youth worker and has developed her career to become a support worker, currently working with young people with various challenging behavioural issues often in a residential setting.
In addition to her commitment to being a Support Worker, Petra owns and runs her own entertainment business Petra E Experience. Petra is an amazing female vocalist, who has been voted Female Vocalist of the Year in Newcastle and Entertainer of the Year in South Wales.
Petra says: "I have always worked with young people over the years on and off, starting as a Youth Worker and just went from there. I knew I had to explore my talent as a musician and working with New Directions on a temporary basis allowed me to do just that. Everyone at New Directions Social Care has always been extremely supportive of my other commitments, which I am very grateful for.  They also are very committed to my development within social care providing various free training courses, so despite how successful I become as a musician, I know I'll always have a job with New Directions."  (Not sure about the last line)
Rachel and Petra are both perfect examples of business owners who are enjoying the benefits and flexibility of working on supply, proving that you can do it too!
No regrets
So if you work in social care and have that niggling desire to explore other avenues, don't have any regrets – come and work for us so you can do both.
Get in touch today
Talk to us…
Cardiff office: Tel : 029 2039 0150
Bristol office: Tel : 0117 3143512
Swansea office: Tel : 01792 620190
Wrexham office: Tel : 01978 799630