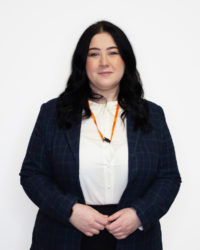 One of the best advantages of being an agency Nurse with New Directions Health & Social Care is the opportunity to work with Sam Marriott, an industry-specific specialist with a passion for helping you to make the most out of your career. 
Sam is always on hand to offer advice and guidance, using the insight and expertise she's gained over the past six years of working in Nursing training and recruitment. 
Read our Q&A with Sam and learn about her role to see how she can support yours… 
Tell us about your role. 
"As a manager at New Directions Health & Social Care, I oversee all of our activity in the training and recruitment of Nursing, Health and Social Care staff. I'm responsible for meeting the needs of our clients and developing our offer to agency Nurses. 
"I really care about providing pastoral care for our Nurses. This is why we go the extra mile to support their training, supervisions and revalidation – to make their time in work as smooth as possible and keep them satisfied in their job. It's important to me that Nurses see how they can progress their careers and invest in themselves with New Directions Health & Social Care." 
What's the best part of your role?
"I really enjoy meeting new people and building genuine relationships with our clients and Nurses. At the moment, everyone is feeling the effects of staff shortages and it can cause strains on services if it isn't properly understood. Whether it's a day-to-day, medium or long-term issue, it's important to know what's important to our clients and Nurses, so we can alleviate pressures and problems where possible and support them to deliver exceptional standards of care. Having a strong, two-way relationship is vital to achieve that."  
What's the most challenging part of your role?
"Simply recruiting. There is a general shortage of agency Nurses across the Healthcare industry at the moment and lots of agencies are at capacity. It can be difficult to recruit in that climate but we have a responsibility to our clients, and their service users and patients to make sure we are building a great team of Nurses to cover their shifts.  
"That's why we're doing things differently and have an extremely beneficial training and development offer. This includes access to our in-house training team and free Clinical Supervision with our Registered Nurse to support nurses in their CPD and revalidation."  
Are there any challenges facing Healthcare that you help to tackle
? 
"It's quite common place for the relationship between agencies and agency workers to become too transactional. This is an industry-wide problem and it sadly isn't new. Anyone who works with us can always expect regular engagement because we actively take steps to avoid that attitude at New Directions. We take the time to get to know our staff and help them to reach their potential."  
Tell us about your most rewarding achievement or experience.
"In the past, I have worked with many services whose low staff numbers have led to serious repercussions like restrictive measures. Together, I have worked with clients to provide clear recruitment plans and the ability to not only cover with immediate agency support, but develop a staff team and a clear strategy to get them out of these measures.  The support I coordinated gave them the security they needed and helped them to overcome external scrutiny, so they could go on to thrive rather than just survive. Experiences like that make it all worthwhile." 
Do you have any advice for anyone considering agency Nursing?
"It's really important to have a real think about what you want in your career and then make decisions based on that. I'd encourage everyone to think long term, not short term. If you're interested in one particular area of Care, it's important to work with an agency who understands that so they can help you to build on your experience. A good agency should always have a pathway or plan to support your goals.  
"Although you're an agency Nurse, you still have a career to care for – in fact, it's even more important for you to think about your career in that way."  
To speak to Sam and learn about the opportunities available with New Directions Health & Social Care, contact us or register now if you're ready to make a difference.