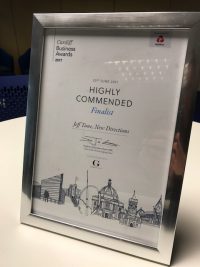 On Friday 23rd June 2017, New Directions Chairman Jeff Tune was highly commended at an awards ceremony held in Cardiff.
The Cardiff Business Awards recognise outstanding achievement in business and celebrate talent, ambition and innovation from across Wales' capital city. This is the third year the awards have celebrated the best of Cardiff business.
The event held at City Hall in the capital celebrated 19 awards in total and was attended by over 400 guests who enjoyed a three course meal and entertainment from former X Factor contestant Lucie Jones. The evening was hosted by television personality Jamie Owen.
Sarah Blackmore, Director for New Directions Social Care attended the event and said of it 'there is something quite inspiring about seeing a business community coming together. Quite aside from all of the fabulous outfits, it's like the 'who is who' of the Cardiff business fraternity. To see our Chairman honoured with an award was very uplifting. I have personally worked with him for a long time, I have seen how much he gives to New Directions and so this is very fitting'.
This award comes amid a flurry of awards for the business in 2017. The SME has been honoured at the Welsh HR Awards and Business Excellence Awards amongst others so far this year. Speaking about the organisations award success – Ruth Dalton, Group Head of Communications and Marketing for the business said 'our business is strengthened year on year – from new staff to innovation in what we deliver. It is important that we ensure this strength and growth is recognised. Business awards in any capacity are a wonderful thing, we dedicate application for them because they let our respective communities know we are getting it right and we never compromise on quality of service'.
In 2016 New Directions became the first recruiter in Wales to receive the Investors in People Gold Status accolade. This acknowledges the commitment of the business to all of their stakeholders.