New Directions Appoint First Apprentice into the Business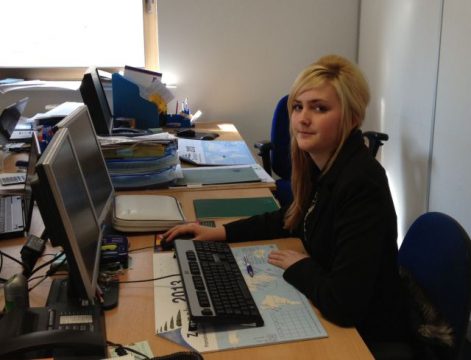 This week is National Apprenticeship Week 2013. This is the sixth time the event has taken place to celebrate the achievements of both Apprentices and their employers.
This year New Directions employed their very first Apprentice in the shape of Melissa Hale. She is undertaking a Level 2 Apprenticeship in Business Administration, working as HR Administrator in the companies head office in Cardiff.
Read more about Melissa's journey as New Direction's first Apprentice here…
How did you hear about the Apprenticeship programme?
When I joined New Directions the HR team I worked within was extremely supportive. As I started to learn more about the business, and my role within the team, it was suggested that we formalise my progress with an Apprenticeship programme. I hadn't considered this as an option previously, but once I understood more about the programme I was delighted to enrol.
What will be the outcome for you at the end of the programme?
The Apprenticeship programme is for a year, during that time I will complete a NVQ in Business Administration at Level 2. I will have also gained invaluable experience of working within a HR department. The qualification and work experience will be invaluable for my future career progression.
How is the Apprenticeship programme different to traditional post 16 education?
The main difference between traditional education and an Apprenticeship is the experience of the real world you get which you just don't get with a traditional course. Also you earn while you learn which is a big bonus.
How have you fitted in as part of the New Directions team?
I feel I have fitted in well at New Directions; everyone has been welcoming and ready to help. It is my first job in an office setting, I was daunted before I started however I feel I have adapted well.
Being the first Apprentice in the business, do you feel you can lead the way for others in the future?
Being the first Apprentice in the business is an exciting opportunity for me and also the company. I think I can definitely lead the way for future Apprentices at New Directions.
The main way I can do this is to be collaborative with New Directions with my experiences, so the programme can be even better for the future. It is a thrilling prospect for me being able to be involved in putting together the programme for future Apprentices.
Would you recommend an Apprenticeship to others and if so, why?
Yes – I would definitely recommend an Apprenticeship to others.
An Apprenticeship gives you a chance to do the practical as opposed to just the theory you would normally do in college. The skills gained by actually experiencing the role are invaluable. Also you earn as you are learning.
What has been the biggest learning curve for you in becoming an Apprentice for New Directions?
Working at New directions is my first time working in an office based role, I have learned a lot about the different departments a company has, as well as communication and office skills. There is a lot more to working in an office than I previously thought.
What advice would you give to other young people looking for career options post 16?
I would advise anyone who is thinking about their options post 16 to think about what kind of career they are looking to having in the future. There are of course some careers that you need to follow a traditional route however there are a wide range of opportunities for Apprentices so they should definitely consider an Apprenticeship. Being an Apprentice means that you not only gain the qualification – you also get the experience, get paid and as at the same time you also build your confidence.
‹ Previous article
Next article ›