Compliance Team in the Pink for Breast Cancer Awareness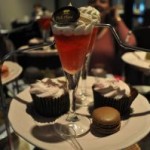 New Directions Compliance Team attended an afternoon tea on the 25th October in aid of Breast Cancer Awareness. The event at the Park Plaza Hotel formed part of Breast Cancer Awareness month . In 2010, 49,564 women and 397 men in the UK were diagnosed with invasive breast cancer. Breast Cancer Awareness is dedicated to providing emotional and practical support for anyone affected by breast cancer. The campaign raises funds for better support and care for those with the disease. They also promote the importance of early detection and help to communicate the importance of breast screening.
The Park Plaza Hotel donated a percentage of their takings to Breast Cancer Awareness for the month of October.  The team enjoyed a slice of the high life including finger sandwiches, cakes and scones all washed down with plenty of tea and a glass or two of bubbly, all with a distinctly pink theme! The team also carried the pink theme into their clothes in line with Breast Cancer Awareness' slogan "Wear It Pink". Speaking of the event, Emily Brace, Senior Compliance Administrator says "This was a great event to be involved in. Breast Cancer Awareness is such a noble cause and the team felt that this was a great way for us to donate as well have having a lovely afternoon out".
‹ Previous article
Next article ›