New Directions helps Mr X Christmas Appeal
Staff at New Directions took part in the annual MR X Appeal, the appeal is a South Wales based charity which was founded over 50 years ago. Participants in the scheme are provided with the name and age and sex of a child who they then purchase a Christmas present for.  Gifts can range from toys to sweets but the charity does not accept cash.
50 staff members from New Directions took part in the scheme, with staff from all departments bringing in a wide assortment of gifts for children across South Wales, making sure they had something to open on Christmas day.
The Mr X Christmas appeal has grown considerably supplying presents to over 4000 children last year alone. Although his identity is unknown, Mr X is now into his 90's and has spearheaded his festive charity with local companies in South Wales. This Christmas the gift appeal is hoping to supply over 6000 presents to children.
Leah Seltzer, Head of Compliance, who organized the collection of gifts from the New Directions staff had this to say about the appeal. "The Mr X Appeal was a fantastic opportunity for New Directions to support disadvantaged children across South Wales. In our first year of supporting the appeal, we provided presents to 50 children. Many people want to get their families involved, so we are hoping to support 100 children next Christmas. The feedback we had from participants was fantastic; it was certainly an emotional process, but all those who took part really enjoyed choosing presents for their sponsored child, and will most certainly be taking part again. The most special thing about this appeal is you know exactly who you are buying for (their first name and age is given), which made the appeal more personal. I would encourage all companies to participate in the Mr X Appeal if they can, and join in the Christmas spirit!"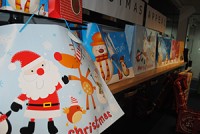 ‹ Previous article
Next article ›