New Directions Celebrates Success at Summer Conference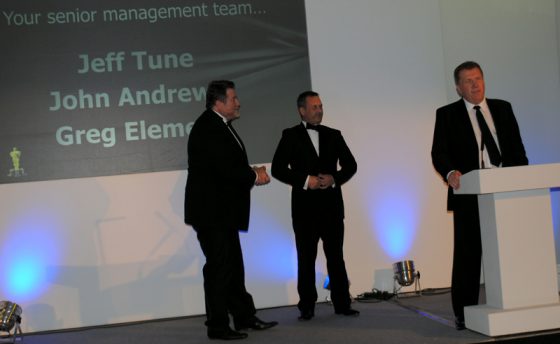 On 18th July 2014 the New Directions group of companies held our annual summer company conference. The event is an opportunity for our teams across the UK to gather and celebrate success. The event was hosted by our Group HR Manager, Victoria Deane who said of the event 'It was an absolute honour to host our conference. To see all of our colleagues from across the UK in one room, with one common purpose is really what being part of such a unified company is about'.
The conference had a theme of 'reflection and projection' which all teams were invited to get involved with. Jeff Tune, Chairman opened the evening events by talking about the success of the previous year and ambitions for the future 'We want to be bigger and better than ever, supporting all of our stakeholders and driving the business forward. Here's to 2014/15'.
The annual conference recognises 'Team Player' of the year for each department and company from within the group – voted for by their own peers. Also, new for 2014 were the company 'Values' awards. These awards recognised those departments within the New Directions group who demonstrated one of these values in their day-to-day activity. The following teams received the awards:
Community – New Directions Social Care
Integrity – Human Resources
Respect – ND Care and Support
Quality – Compliance
Innovation – Communications
Attendees also enjoyed a three course dinner at the Marriott Hotel in Cardiff, and were treated to a live band performing a series of cover songs. Ruth Dalton, Head of Communications for New Directions said 'the company conference is all about unity. Although we are a group of companies – we are working towards the same purpose. That purpose is to ensure that our clients and candidates from across all the sectors we work within are given the best possible experience during their journey with us'.
The New Directions group of companies employ in excess of 2,000 temporary staff on a monthly basis. Providing staffing and training solutions to a number of key employment sectors including: education, social care, domiciliary care and pharmacy.
‹ Previous article
Next article ›