New Directions Shortlisted as Employer of Choice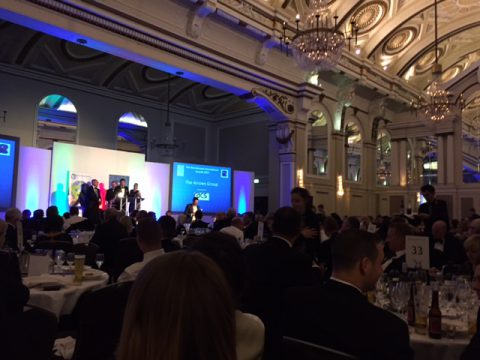 On 12th November 2014 New Directions was included in an elite list of recruitment agencies as a shortlisted employer of choice at the Recruiter International Awards.
The ceremony, which took place in London was to celebrate the top 250 recruitment agencies throughout the UK. The event was attended by New Directions Senior Management Team, Jeff Tune, John Andrews and Greg Element.
Speaking about New Directions inclusion in the top 250 list, Jeff said 'to be shortlisted as one of the top 250 agencies in Britain was overwhelming. We all work hard to ensure that this business continues to grow, succeed and provide a recruitment and training sevice that is second-to-none'.
As an addition to being included in the top 250 list, New Directions were also shortlisted for 'the best recruitment company to work for (£10-40m)' category. The impressive shortlist which was sponsored by First Choice Software included a number of prestigious agencies from across the UK.
Victoria Deane, Group HR Manager for New Directions commented 'the nomination for best recruitment company to work for comes after a really intensive period of hard work from all within New Directions. In the last 18 months we have achieved IIP status, as well as being named as a Hot 100 Recruiter and achieving many other accolades. Our teams, especially our employee forum, have worked hard to ensure that the best interests of those that work within our business are represented at all times'
Victoria continues 'we became the first agency in Wales to introduce a supportive IVF policy. We also ensure that we offer our staff as many opportunities as possible to develop as professionals – we are exceptionally proud of this'.
New Directions is a group of companies that provide recruitment and training services to a number of bespoke employment sectors. The business experiences growth of around 20% annually with offices in 10 UK locations across England and Wales.
For more information about working for New Directions visit: work for us
‹ Previous article
Next article ›