Melissa completes apprenticeship in Business Administration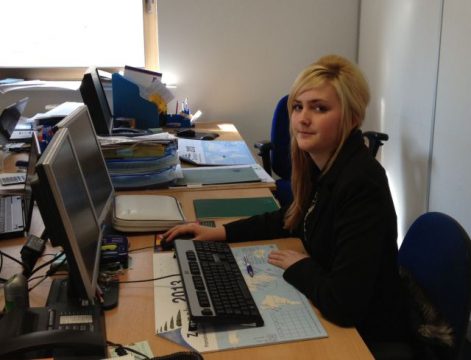 Melissa Hale, 20, has worked for New Directions as an HR Administrator since September 2012. Since joining the company she has completed an apprenticeship in Business Administration, Level 2 and talks to us about how completing an apprenticeship has helped progress her career in Human Resources.
Melissa, how has the apprenticeship programme helped you progress your career?
Completing my Business Administration apprenticeship has given me more confidence which has allowed me to take on additional responsibility beyond my job role.
How do you feel the apprenticeship benefitted you compared to going down a traditional study route?
I didn't want to go to university, I wanted to start earning and not get myself into debt. The apprenticeship programme is a great way to gain experience in your chosen career path as well as gaining a qualification.
Has this opened doors to other qualifications?
Yes, I am currently studying for my Chartered Institute of Personnel and Development (CIPD) Level 3 which I am due to finish in September.
What was the biggest learning curve for you in becoming an apprentice for New Directions?
This was my first office based job; therefore working in an office environment was probably the biggest learning curve for me.
How long did it take you to complete the apprenticeship?
It took around 1 year to complete.
What advice would you give to other people looking for career options post 16?
I would advise if you aren't sure what you want to do then try an apprenticeship, it gives you a taster of your future career. I have loads of friends who have finished university and then can't get a job in the area they have studied in as they don't have enough experience; an apprenticeship gives you the experience whilst learning.
‹ Previous article
Next article ›