Welsh Women in National Awards Final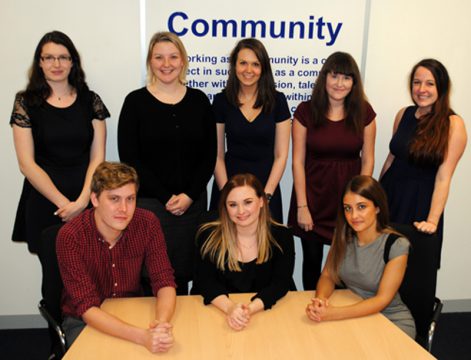 Leading Welsh recruitment and training firm New Directions has been shortlisted for the prestigious 'Women in Compliance Awards' set to take place in London in March 2016.
The awards celebrate the achievements of female compliance professionals and the success of the compliance industry through diversity, recognising and rewarding the outstanding contribution that women make every day in the world of business.
The New Directions Compliance team (pictured) work to ensure that all of the supply staff that work for the organisation are safe to work in the communities the teams service. Leah Seltzer, Head of Compliance comments 'our team was absolutely over joyed to have been nominated for this award; to be shortlisted against such strong competition is just wonderful. This year has been one of complete innovation and growth for our team. From the launch of our online criminal record checking service to the addition of new colleagues who have only strengthened our offer, we have grown considerably'.
The New Directions group of companies offer a recruitment and training service to a number of key employment sectors including education, social care, pharmacy and commercial businesses. The Compliance team work to support the consultants in ensuring the appropriate vetting checks are carried out before candidates are placed in to work.
Jeff Tune, Chairman for the organisation said of the shortlisting 'Our Compliance team have introduced such robust processes since their inception back in 2008. Our organisation can always assure those businesses that we work within of 100% diligence in the pursuit for the safeguarding of their workforce. This shortlisting is absolute testament to the hard work of the entire team'.
The team will now have to wait until the awards ceremony held in London on March 17th 2016 to hear of their fate. They are shortlisted alongside eight other organisations such as NFU Mutual and Yorkshire Water.
‹ Previous article
Next article ›