New Directions Named Best Recruitment Agency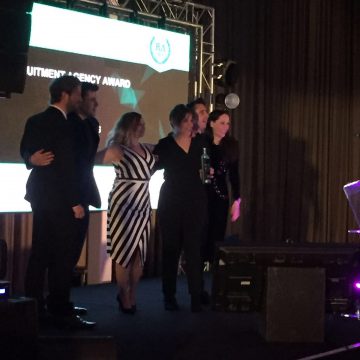 New Directions was last night named as 'Best Recruitment Agency' at The Regional Awards in Cardiff.
The team collected the trophy after applying for the award and making the long list before going to a public vote to make the short list.
Speaking about the award Ruth Dalton – Group Head of Communications and Marketing said
This award is a great big thank you to all of our staff and most importantly our candidates. Without their loyalty and hard work we wouldn't be able to celebrate success so magnificently.
2016 is shaping up to be an award winning year for the agency with this being the fifth award for the team so far this year. Last month the team won the 'Compliance Team of the Year' at the Women in Compliance Awards in London. The award had previously been won by Google and Orange.
Ruth adds
Being recognised with awards like this is always a thrill. Our team works hard to provide a quality service to all of our candidates and clients. Being honoured alongside peers from the industry gives us all a wonderful sense of pride.
The team attended the ceremony at the Mercure Holland House in Cardiff along with 400 other business professionals from across the region. The event was hosted by Capital FM's Matt Lissack and guests were entertained with live music from Sarah Brown and Darren Tyson.
‹ Previous article
Next article ›