New Directions Highly Commended for 'Best Service' at the Go Wales Awards 2016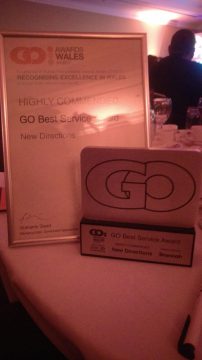 On the 6th October 2016 New Directions was 'highly commended' at the inaugural 'Go Wales' awards in Cardiff for best service.
The Go Awards have taken place in Ireland, Scotland and England for a number of years, and in 2016 as Wales celebrated their 'Day of Procurement' the country held its first ever event.
In a ceremony held at Cardiff's Marriott Hotel, a sell-out audience enjoyed a three course meal and the company of host BBC Wales Host Roy Noble in an event that saw 16 organisations receive praise for the services they provide to procurement in the public sector.
Speaking about New Directions 'highly commended' award, Ruth Dalton, Head of Communications and Marketing for the business said 'to be one of the only, if not the only private sector organisation shortlisted here tonight has been an outstanding success for New Directions. Our teams have worked hard to develop real sustainable relationships with the public sector – from creating bespoke invoicing options to adhering to complex processes – the team has taken the challenge and delivered above and beyond. This award acknowledges that'.
The award comes as part of a flurry of achievements for the business throughout 2016. Dalton continues 'watch out 2017 – we are taking Wales on a real journey, our plans for growth and making our country a stronger competitor are bigger than ever'.
‹ Previous article
Next article ›