A big THANK YOU for the Mr X Appeal Donations 2016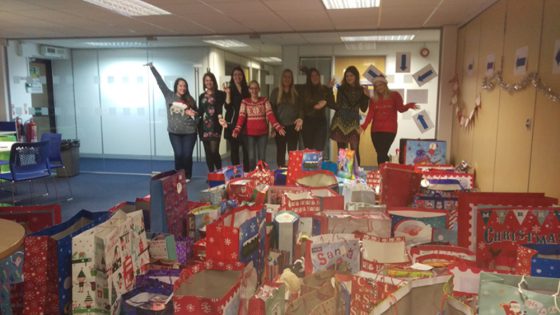 This year marks the fourth anniversary of the New Directions group of companies' involvement with the 'Mr X Appeal'. This appeal works to deliver gifts to children and young people across South Wales who will not have as much as others this festive period.
In 2013 when we first started working to support this initiative, we loaded up one of our pool cars with presents and proudly drove the 40 miles down the M4 to the drop off point to add our offering.
Well…fast forward to 2016 and we have had to recruit the services of Cardiff Bay Office Furniture – one of our own brilliant suppliers to bring along a van, as well as using our largest vehicle to load up the presents collected by New Directions. Daf Stone and Mark Lloyd of BRAWD Health and Fitness and M.S. Health and Fitness also dropped off a van load of presents. Daf (who is also works with Mentor Training and Pine Shield) then invited Osha Ringham and her colleagues from D.S. Smith to get involved…sheesh, the team work is endless.
This year we created gift bags for over 190 children. That's 190 young people who will experience a part of Christmas that so many of us take for granted. Of course we were so proud to be able to donate – right across our business we had people take part. I think that this project resonates with most people within our organisation – as parents, daughters, sons, brothers, sisters, aunts and uncles, but we are also saddened that in 2016 we still need to be driving charity projects like this.
When you are assigned your child or young person to buy for – you are given their first name and their age. You begin to create a personality for that individual, and I am sure most of the people who take part in the project would agree, you become really connected to them, you want to create the best gift experience possible.
For our organisation our commitments to supporting charitable drives within all of our communities are not just centred on Christmas time. We have our own chosen charity – the NSPCC and our teams across the UK have wonderful ideas about supporting schools raise funds for innovative projects, helping shelters and other organisations stock essential supplies to survive.
So, this year I felt it was important to write this little blog to say thank you to my colleagues and friends, to those other organisations that have supported our commitment to the project – you really are making a difference. I hope that our entire community has a wonderful, peaceful and restful Christmas…and here's to 2017 and never losing our focus on making a better tomorrow for all of us.
Leah x
‹ Previous article
Next article ›