A Little Extra Goes a Long Way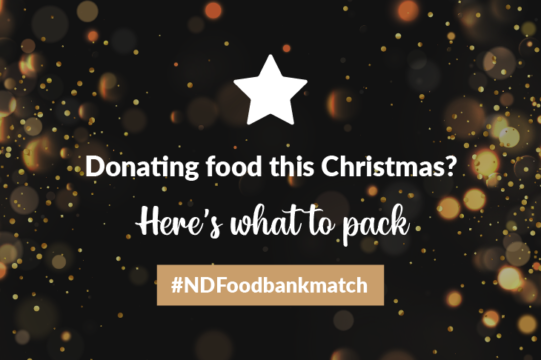 Are you planning on donating to a food bank this Christmas? We want to extend your kindness by matching it with a monetary donation to local food banks to provide families with an extra helping this festive season.
How do you get involved?
To make it easier for everyone to qualify for our #NDFoodbankmatch, we have a number of ways you can let us know about your donation:
Post a picture of your food items you plan to donate on social media, tag us into it (see our social media accounts below) and use the hashtag #NDfoodbankmatch
DM us with your picture via social media
Email your picture to

[email protected]
Or
Drop your items at one of our local branches, see the full list here (with link)
Simply choose one of the options above before the 16th December 2020, and we'll then make a further monetary donation to various Trussell Trust offices across a number of regions / areas to ensure we cover as many local food banks as possible.
Why do Food banks need our support?
Food banks are designed to help people in the community who may be struggling to pay for food. Trussell Trust's food bank network alone distributed 1.9 million three-day emergency food supplies to people in crisis from March 2019 to March 2020, this is a 18% increase on the previous year. More than seven hundred thousand of these went to children and in our current climate, we can only imagine the demand is even higher. Most importantly, over 90% of the food distributed by food banks in the Trussell Trust network is donated by the public like many other foodbanks – that's why our food donations are absolutely vital.
One amazing thing to come out of 2020, has been the true community spirit and we can no doubt all agree that food banks have a special place in our communities right now!
What items do food banks need right now?
A typical food parcel includes:
Cereal
Soup
Pasta
Rice
Tinned tomatoes/ pasta sauce
Lentils, beans and pulses
Tinned meat
Tinned vegetables
Tea/coffee
Tinned fruit
Biscuits
UHT milk
Fruit juice
Essential non-food items
Toiletries – deodorant, toilet paper, shower gel, shaving gel, shampoo, soap, toothbrushes, tooth paste, hand wipes
Household items – laundry liquid detergent, laundry powder, washing up liquid
Feminine products – sanitary towels and tampons
Baby supplies – nappies, baby wipes and baby food
Face masks and hand sanitiser
Every business within New Directions is supporting our Christmas Food Bank Match initiative. Check out our social media handles below to see where you can tag us into your posts. You only need to tag one social media account listed below, but please remember to use the hashtag #NDfoodbankmatch so we don't miss your pics.
A little extra, goes a long way. 
‹ Previous article
Next article ›