New Directions Education beats the World Record hosting the biggest ever sign language lesson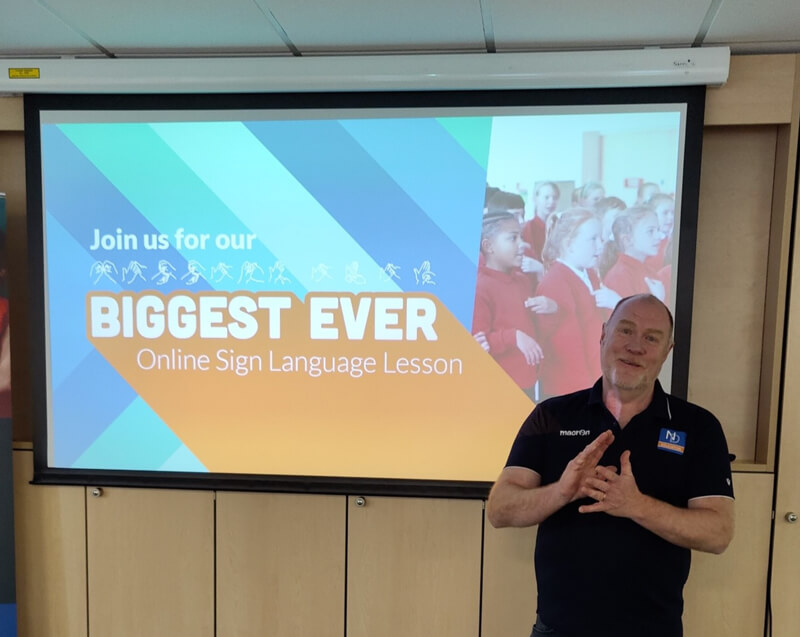 More than 2,700 pupils and teachers from Wales, England and even the Czech of Republic, joined a free online sign language lesson organised by New Directions Education last week (March 18th) and unofficially beat the current world record by 88%.
The lesson, which was held during Sign Language Week, was delivered to pupils, their teachers and those keen to learn more about the language, by accredited trainer Derek Tune. Derek spent an hour going through the basics of British Sign Language concluding with everyone signing Bob Marley's '3 Little Birds' and Louis Armstrong's 'What a Wonderful World' together.
The current Guinness World Record for the largest sign language lesson was achieved in 2017 by Rajkot District Administration in India in 2017 when 1,442 people took part and signed the Indian National anthem to end the lesson.
Gary Williams, Director of New Directions Education, said: "Our Introduction to Sign Language lesson, both online and face-to-face, has always been popular so we thought we'd get a few hundred people booked on. As the bookings started to grow into the thousands however, we wondered if we were on course to beat the World Record but didn't dare say it out loud.
"With the majority of schools in Wales still delivering remote learning up until the week before the event, we weren't even sure if the lesson could go ahead, but I'm glad we stuck to it and in fact, it came at the best time to provide a real fun and uplifting wellbeing lesson to children in their first week back."
Gary added: "Because of this uncertainty, we didn't go ahead to make it official this year, but plans are already afoot to make sure we go one better in 2022 and officially break the world record, and of course our own record too. It was an amazing lesson and something everyone involved can be proud to be part of."
Gary explained that New Directions Education has delivered these sign language lessons free of charge to children in schools for many years, but that this year they wanted to do something special: "The past 12 months have made it much more difficult to deliver any our face-to-face training, so this event has enabled us to do something extra special during these difficult times."
Sign Language trainer Derek Tune has worked with New Directions Education to deliver training for over 5 years and has taught sign language to thousands of children and adults for more than 20 years. He forms part of an accredited training team within New Directions Education, which in addition to sign language delivers first aid lessons to pupils in schools, and other training such as ACE (Adverse Childhood Experience) to teachers. Before the lockdown they had taught more than 10,000 children the basics of sign in just one year.
Derek said of this year's event: "I'm amazed that we managed to break the world record for the biggest ever sign language lesson. I am very grateful to all the schools and individuals who took part and made it such a special occasion during Sign Language Week."
David Lewis, Head Teacher, Aberbargoed Primary School said: "It was fantastic. It was quite surreal walking through the school seeing 200 children, in their separate classrooms of course, signing to Louis Armstrong. It really was amazing."
New Directions Education is Wales' leading education recruitment company, founded over 22 years ago, and is one of the leading providers of education staff across the UK.
‹ Previous article
Next article ›