Local Business Goes from Strength-to-Strength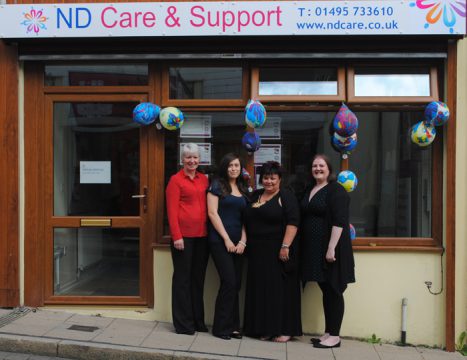 A local business from the Blaenau Gwent region has bucked the double-dip recession trend and continued to grow in spite of the economic downturn.
ND Care & Support – a service provider for individuals with specialist care needs has recently outgrown their original premises within the Innovation Centre at Victoria Business Park and relocated to a three story office on the high street in Brynmawr.
The team celebrated with an office warming held on Thursday September 5th in their new location and invited local community leaders and other key stakeholders to take part in the celebrations.
Speaking about both the office move and the business growth Odette Flower, Branch Manager commented 'Last January we celebrated our first year in operation as a business in this area. In that time we had found over 50 people across our region employment. That number has doubled and then some since that time. We had to move into the high street location here in Brynmawr to try and attract more candidates. We have been welcomed by all of our neighbours and look forward to working closely with them to all to keep this town centre thriving'.
The unemployment rate in Wales currently stands at 8.4%* which is down from last year's figure of 8.9%. Local business leaders on Brynmawr High Street like Gavin Barry (pictured) of family-run butchers 'Meats R Us' welcomed their new neighbours into the are 'It's wonderful to have another shop open on the high street – it certainly brings more people into the region who visit more businesses. The team are friendly too'.
ND care & Support have been in operation for five years in Wales and opened their Blaenau Gwent operation just over two years ago. One guest at the party was Carol Hyde an Employer Advisor for Job Centre Plus in the region who said 'This is a great new move for the team; the location is perfect for footfall and street traffic. The previous office was wonderful but a little isolated. We would like to link in with the team and create a partnership for our own work experience candidates. We have always worked well with Odette and the team; they are one of the best employers in the region'.
The ND Care & Support team will run regular events such as coffee mornings and training sessions from their new offices to further strengthen employment opportunities within the area.
‹ Previous article
Next article ›