Matt's Marathon Challenge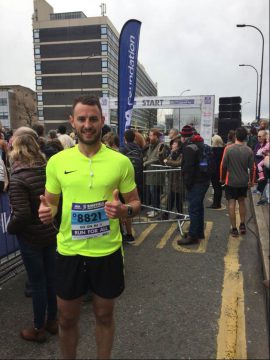 One of our very own Cardiff Education Team Account Manager's, Matthew James, recently completed the Sheffield half marathon, beating his personal best with an impressive time of 1hour 28 minutes and 21 seconds in aid of the TomMaynard Trust.
Originally Matt planned to run the Newport half marathon on 4th or 18th March but both dates were cancelled due the freak snow blizzard that ravaged the UK throughout last month. Subsequently Matt made the 4 hour journey to Sheffield last Saturday to run (7th April) Sheffield's Half marathon instead.
Matt has been in training since December and also decided to make the (some would say courageous) decision to give up alcohol for four months to help him keep in peak physical condition and beat his personal best of 1 hour 29minutes and 29 seconds.
Along with giving up alcohol Matt enlisted the help of his 8 year old son, Alfie, whom he had asked to get him a running calendar for his Christmas present. But, rather than buying his dad one Alfie decided to make it and set Matt's tough training regime until the end of April. Alfie did try and ease some of the training pressures and to keep his dad motivated scheduled in spot prizes along the way.
Matt comments; "Safe to say it was the toughest course I have run to date with lots of hills to tackle throughout the course. I finished the event with a time of 1 hour 28 minutes and 21 seconds. I have currently raised £402 so would like to say a big thank you to all who have sponsored me so far."
Matt's chosen charity, The Tom Maynard Trust was set up initially to help the development of aspiring disadvantaged cricketers and other sportspeople who require support with different aspects of their career development, including bursaries, help with training and education, financial support for overseas placements and assistance with kit and equipment. Its work now includes support for education and development programmes across a number of professional sports and the running of an annual Tom Maynard Academy in Spain.
"I decided to choose this charity as I grew up with Tom through Primary school and Comp playing in many different sporting teams with him. Tom went on to play Cricket for Glamorgan and Surrey. Tom was involved in an accident in London back in 2013 which he did not recover from." Says Matt
Matt will also be running the Newport Marathon on 29th April which is a 26.2 mile route past iconic landmarks, coastal wildlife, picturesque medieval villages and after completing this he can finally celebrate with a pint or two…
If you would like to help raise money for this worthwhile cause, please click here to sponsor Matt.
‹ Previous article
Next article ›