Festive Frolics Week
December is in full swing and the festivities have begun. The Christmas decorations, songs and treats are out in force, and our teams at New Directions are really getting into the festive spirit. We had a fantastic turn out for Save the Children's Christmas Jumper Day, we donated hundreds of presents for disadvantaged children in Wales through the Mr X Christmas Appeal, and we've had team Christmas parties jingling all the way!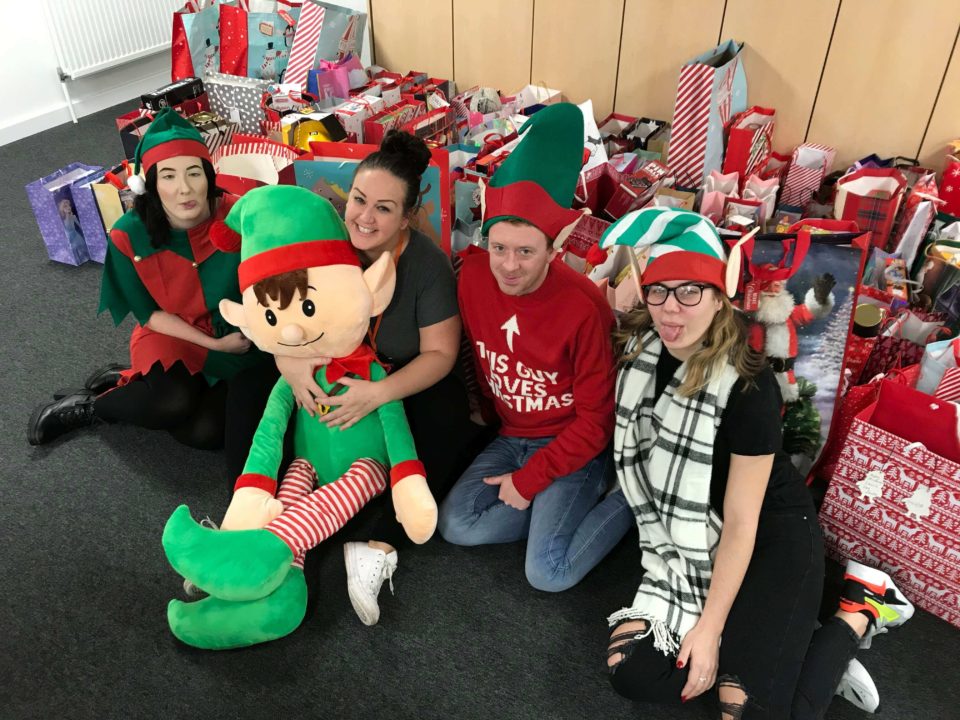 As the big day draws nearer, we've been excited about our Festive Frolics week – a whole week of Christmas fun in the office, marking the countdown to December 25th. Festive Frolics kicked off on Monday 16th December, with a packed schedule of entertainment for all our offices and team members to take part in throughout the last working week for some of us before Christmas.
Monday
Monday launched with the Human Christmas Tree competition. Our offices were challenged with selecting a team member to dress up as a Christmas tree using their creative flair and imaginations. They certainly dug deep and went for it, bedecking colleagues with tinsel, crepe paper, ribbons, baubles, lights and more. Our IT team were crowned winners for their creative (but rather unconventional) human Christmas tree dressed up with colourful cables and wires, starring Dan from IT.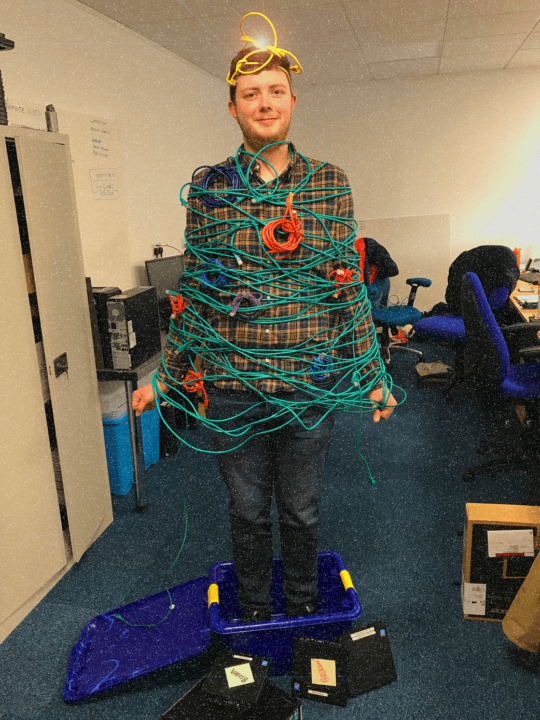 The first day of Festive Frolics also saw our first Christmas recipe landing in our inboxes – warming mulled cider for chilly winter nights – and we learned about some fun and surprising Christmas traditions from around the world. Who'd have thought that people roller skate to church on Christmas day in Venezuela?!
Tuesday
Day two of Festive Frolics started with a competitive Christmas team quiz… do you know the names of all of Santa's reindeer? Can you remember what gift was given on the ninth day of Christmas? How good is your knowledge of traditional Christmas foods and drinks? The teams got competitive and put their heads together to find the answers, with the Accounts team coming out as the star on top of the tree.
Tuesday also saw our second Christmas recipe arriving in our inboxes – delicious mini beef wellington tartlets which are perfect for Christmas parties – and the New Directions suggestions for must-see Christmas movies for the whole family over the festive holidays. Our favourites included Love Actually, The Holiday and Arthur Christmas.
Wednesday
The middle of the week came around fast with all the Festive Frolics going on. It was another fun-filled day with the Managers Wrap-Off and the Dress Up Your Door competitions taking place and Wednesday's recipe of the day – mouth-watering red onion and brie tartlets.
Our teams let their creative juices flow by decorating their doors in every merry way they could think of. From gift wrapped doors with bows and tags, to cosy fireplace scenes and cute Santa's grottos, our doors looked truly magical! The winners were our team in Wrexham with their fabulous North Pole…
Meanwhile, the Managers stepped up to the challenge of a Christmas present Wrap-Off. Armed with wrapping paper and Sellotape, they got to work wrapping boxes at high speed, with HR Manager, Alex Rowlands, coming out on top as the most gifted gift-wrapper of them all.
Thursday
Thursday was a day that we were all looking forward to… the Christmas Cookie Bake Off! Team members from across New Directions donned their chef hats and aprons to put their baking and icing skills to the test, delivering beautifully decorated festive cookies to the office. Our Swansea team were voted the favourites and we agree – those cookies deserved to win. Did someone say, 'Great British Bake Off 2020'?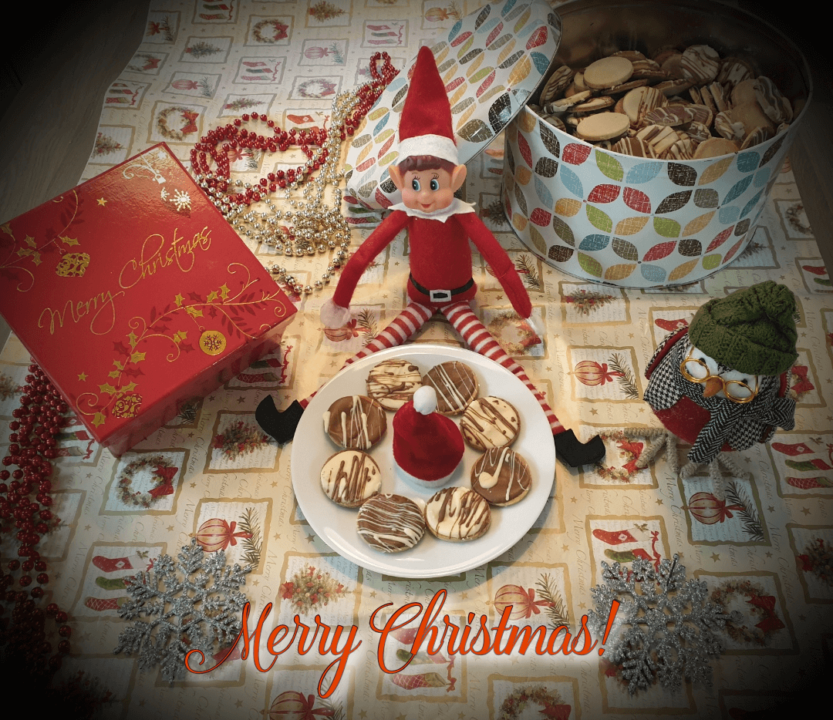 Day four also saw a visit from Santa and his little elves, bringing a surprise gift lucky dip for employees, and today's Christmas recipe was for chestnut stuffing – a Christmas dinner staple.
Friday
The final day of Festive Frolics came around all too soon, but the week certainly ended on a high. Friday finished with a special treat for our employees and their friends and families, with a gospel choir singing our favourite Christmas songs in front of the Christmas tree in our courtyard, a special visit from Santa for the little ones, and mulled wine and mince pies for the grown-ups. It's impossible not to be in the festive spirit after all that!
Merry Christmas from everyone at New Directions and we wish you a very happy New Year too!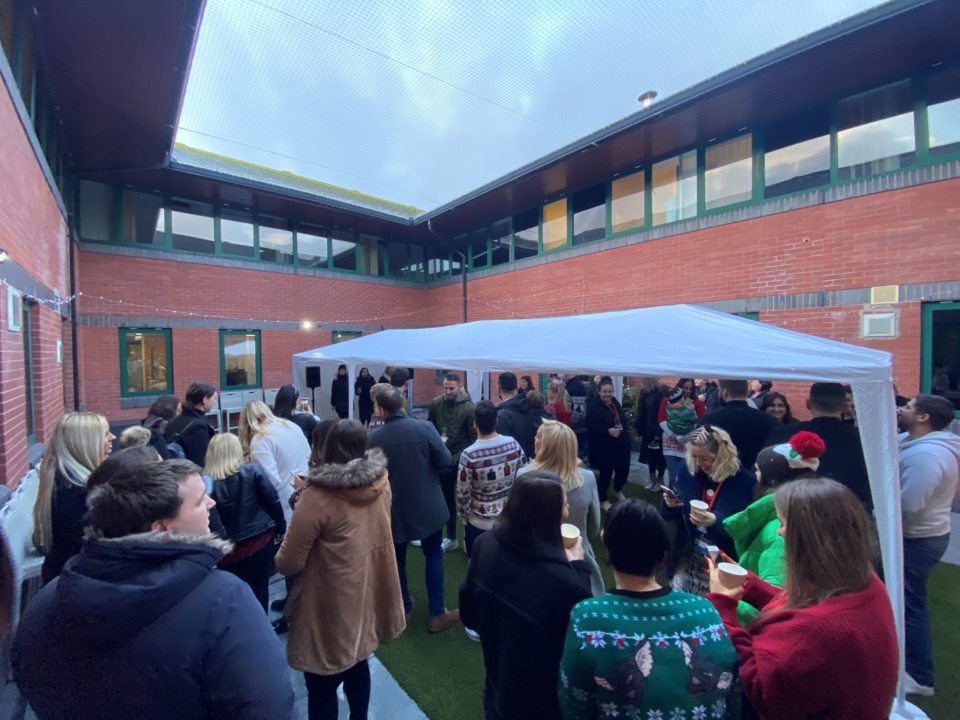 ‹ Previous article
Next article ›