New Directions recognised for Environmental and Quality Management excellence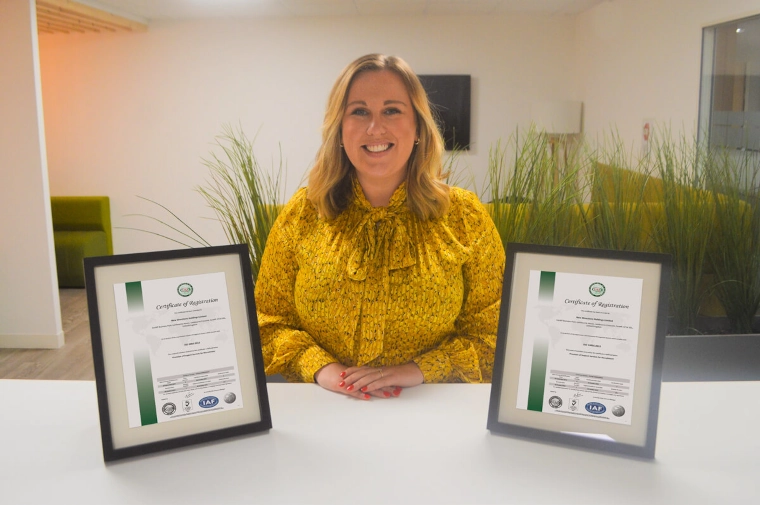 Press release: New Directions has been recognised for promoting excellence in its environmentally friendly business operations and Quality Management processes after renewing internationally renowned certifications in both areas.
After an audit of its support services for recruitment in Cardiff, the specialist provider has been awarded the ISO14001:2015 certification for minimising its environmental impact, and a ISO9001:2015 certification in recognition of its Quality Management principles.
ISO14001, awarded to New Directions' head office in Cardiff, recognises an increase in the proportion of recyclable waste, a reduction of general waste and paper usage, and the exchange of standard products for more sustainable options.
ISO9001 is awarded to businesses committed to monitoring and improving in all areas. It is measured against Quality Management criteria including a strong focus on customer feedback and satisfaction, the motivation of senior management functions, and how company processes ensure continual improvement.
"We're really passionate about implementing our green agenda, so I'm absolutely delighted that the hard work and dedication of the team here at New Directions has been recognised with these two prestigious business certifications.

"Everyone has a part to play in mitigating climate change and minimising our environmental impact wherever we can. We take our responsibility in caring for the environment, as well as for each other, extremely seriously, and are highly focused on proactively working to improve on the systems and processes we put in place to support this."

Emily Tune, Group Director at New Directions
New Directions has had ISO14001 and ISO9001 in place continually since 2013 and achieved its most recent certifications following a three-year assessment cycle.
"In achieving these certifications, it also means our highly valued and loyal customers can feel reassured that we are deeply committed to minimising the environmental impact we have as a business, as well as placing our employees and customers best interests at heart at all times."

Emily Tune, Group Director at New Directions
Established in 1994 and with its headquarters in Wales, New Directions is a part of the New Directions Group of award-winning companies, whose purpose is to support and safeguard the communities it works with across the UK.
The New Directions Group provides specialist recruitment and training support within education, pharmacy and social care, delivers specialist domiciliary care to individuals and their families, as well as offering effective online management system for employee checks to organisations UK-wide.
The group as a whole comprises New Directions, New Directions Education, New Directions Pharmacy, New Directions Health & Social Care, ND Care & Support and Checks Direct.
‹ Previous article
Next article ›