New Build For Newman College
On 17th September 2012 two schools in the North West merged to create the ambitious Newman RC College. The new school, which is the combination St Ambrose and Our Lady's is set to drive education standards forward in the region. Speaking about the new premises, Dawn Gladrey, Cover Manager comments 'The new building is amazing, spacious and bright. There is a real community feel about the building and everyone seems happy. Perhaps one of the most impressive elements are the IT links within the classrooms. Working here feels like being in a film about the future'.
Amanda Stothard, Branch Manager for New Directions Manchester said of her visit to the new campus 'It is a beautiful new build, I can only imagine that students and staff alike will be very motivated in such an impressive building. We look forward to supporting the team on an ongoing basis.'
Students at the new school were eqaully impressed commenting:
Out of this world, The school is so big you feel like you could get lost but the teachers are so helpful and you become relaxed very quickly.

All the classrooms are modern and the teachers have been so nice and welcoming.
It's really cool and you are made to feel safe and comfortable, I like everything it's so open with the modern look and glass everywhere

There is the climbing wall. I am looking forward to doing sports here . I felt nervous at first but the staff have been very helpful and i've got to grips with the place now.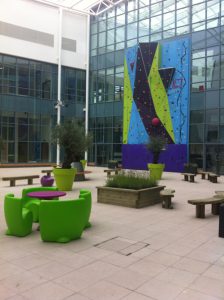 ‹ Previous article
Next article ›