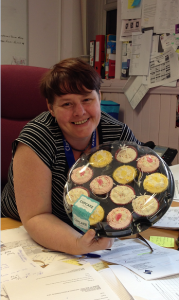 Kathy Temple Heald from Clarksfield Primary has been awarded 'Temp of the Month' by the New Directions Manchester team. Account Manager Gareth described her 'a reliable and hardworking individual, and a fantastic representative for New Directions.'
Kathy has been covering administration and reception at a variety of schools during her time working supply. She has always gained the highest feedback, and has secured long-term placements based upon her outstanding reputation and her ability to easily adapt in her role and become part of a schools team.
Gareth Beaumont visited the school and presented Kathy with a bottle of wine and cupcakes. She was so thrilled and said that 'During my time as a temp I have felt like I am a part of the school. I have really enjoyed working with the staff and children'.