New Directions and Cardiff City Continue Commitment to Girls Football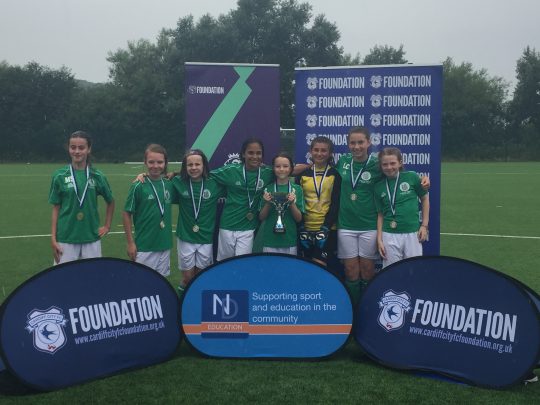 New Directions Education and the Cardiff City Community Foundation have demonstrated their commitment to girls football for another year.
The 2018 Girls Schools Under 11 Cup was held on Wednesday 4th July amid an unanticipated heatwave and more skill on display than ever before.
The final was fought out by Crickhowell Community Primary School and Georgetown Primary School with Crickhowell taking the eventual title.
A spokesperson for New Directions described the event 'It was a great event. I only arrived during the semi-finals. At the exact moment the weather turned! It was very atmospheric with it pouring down rain for the final. Coaches were very enthusiastic too, lots of roars from the side-lines'.
Kick-off was awarded to Crickhowell who won the coin toss, the enthusiastic side were soon pressing to the mouth of the Georgetown goal. After a competitive start from both teams, with some exceptional performances from the teams the first goal came from an ambitious Crickhowell.
Georgetown Primary School responded well and charged towards the opposing goal. They created a few changes with Crickhowell's Goalkeeper having to make some excellent saves.
Crickhowell applied more pressure and scored another goal securing their win. This is the second time in a row they have won this tournament. Their team was very excited and jumping around the pitch in a huddle.
At the end of the match, Georgetown left the tournament with their heads held high and said they've learned a lot from this tournament and plan to come back to win the next!
Watch this space for more comment coming soon from team coaches…
‹ Previous article
Next article ›