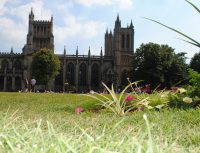 Our team set up in Bristol just over three years ago. We took the decision to build bridges…well, just over the bridge because of increasing links with the social care community in the region and reports of a city set to take over technologically, socially and culturally.
We made the right decision.
This week we were delighted to read a report* detailing how Bristol had overtaken London to be named the 'UK's Smartest City'.
What does that actually mean?
Well, in short it's all about innovation and digital technology. The city has become a thought leader in helping its communities to access much improved services and infrastructure. We (yes, we count ourselves as firm residents in the South West now) have outshone London, Manchester, Leeds and Birmingham. Just wow – what beautiful ambition from Brilliant Bristol.
New Directions is proud to work in partnership with local authorities and private organisations for the supply of staff to the care sector – teams who have been highlighted as a great 'testament to the vision' alongside Bristol University.
We have been reflecting on our own small contribution to becoming more accessible to our community across the city – from our online platforms for training and criminal record checks to giving our own candidates access to individual web portals to manage their own careers. Yes, it's a small input into the wider picture, but as our business grows we hope to have the ability to feed into the ambition of the city.
One thing is for sure – making strides across the Severn was the right move. We have met individuals who have inspired us to bring extra to a sector that deserves so much more.
Our team is based in Temple Quay at the heart of the revolution – we are always keen to speak with candidates, customers and business links who can help us deliver so much to so many across the South West.
So, big up Bristol once again – from Brunel and his bridge to an even stronger modern infrastructure for 2017 and onwards, we are proud to be your neighbours…
Kirsty x
* https://www.bristol247.com/business/news-business/bristol-overtakes-london-named-uks-smartest-city/