After 25 years in educational recruitment, New Directions Education Director says the past 18 months was the toughest but most inspirational yet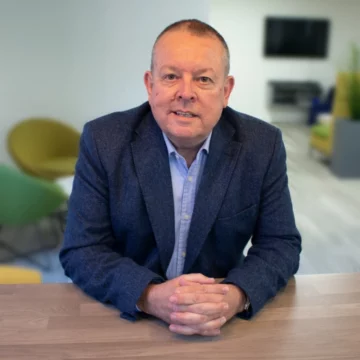 After a quarter of a century working in education recruitment and following one of the sector's most challenging periods to date, the man responsible for meeting over 50% of Wales' supply teaching needs says he has been so inspired by educational professionals who have worked fearlessly to ensure the protection of staff and pupils.
Gary Williams is Director at New Directions Education, one of the leading providers of education staff across the UK, and Wales' largest education recruitment company, which places over 3,000 people into work within education every week. Celebrating 25 years specialising in education recruitment, with 22 of them at New Directions Education, he has seen a multitude of changes in the sector.
Today, following one of the toughest years he can recall within the industry, Mr Williams says the education sector is working harder than ever to make sure staff are supported in the challenges they face: "When the going got tough the teaching profession pulled together in a way I've never seen before. They faced pressure both externally and internally but have supported one another and ultimately their students in such an amazing way.
"New Directions Education has been supporting schools and colleges in Wales, the Midlands and the North West of England over the last 22 years, and of course during the pandemic we saw first-hand the difficult conditions and stress that working under the cloud of Covid-19 has had on education staff.
"We just wanted to show support and help in any way we could, so in addition to providing temporary and long-term teaching and support staff to schools as required, we hosted a variety of online training events for education staff throughout the year, including mental health and well-being webinars. These webinars were extremely popular and have now become regular events during school holidays and part of our long-term training offering to both schools and individuals.
"We also hosted the world's biggest ever sign-language lesson online to schools and their pupils in March, which provided such a fun and uplifting experience for everyone involved. It was the perfect way to welcome everyone back to face-to-face learning, and it was really quite emotional having over 3,000 children take part in our lesson at the same time, especially after the year they had all experienced." he said.
New Directions Education plays a key role within the education industry, placing essential supply staff into schools and colleges. From just a handful of people placing teachers into schools in South Wales in 1999, the leading specialist agency now employs over 60 staff and works with hundreds of schools and thousands of teachers, learning support assistants and other support staff throughout the UK, to match the right people to the right jobs accordingly.
Looking back over the last 25 years, Mr Williams reflects on the initial stigma around recruitment agencies supplying education staff and how things have changed significantly since.
Gary said: "When we started, there were some negative stereotypes about the quality of teachers supplied by recruitment agencies, however once we started building relationships with schools and working closely with professionals in the industry, we were able to demonstrate our knowledge and experience, and truly created value for everyone we worked with.
"We now work with hundreds of schools and thousands of education professionals who are all leaders in their fields, and we're proud to play such a significant role within the industry."
As the pandemic hopefully draws to a close, New Directions Education will continue to support the sector with post covid catch-up programmes, providing high quality staff and services for the education sector across England and Wales.
"Of course, we're all remaining optimistic with the success of the vaccine delivery across the country, however we understand the pressures of COVID-19 remain high in the education world. It is imperative for schools to continue protecting their staff, children and communities from the virus, and it's now full steam ahead with the plans to support the recovery of pupils and staff both in terms of their well-being and education development, following such a difficult year." Mr Williams added.
New Directions Education is part of the New Directions Group, which comprises of award-winning companies whose purpose is to support communities throughout the UK via their recruitment, care and employee and vetting checks services.
‹ Previous article
Next article ›