Bridgend Primary School Races into Pole Position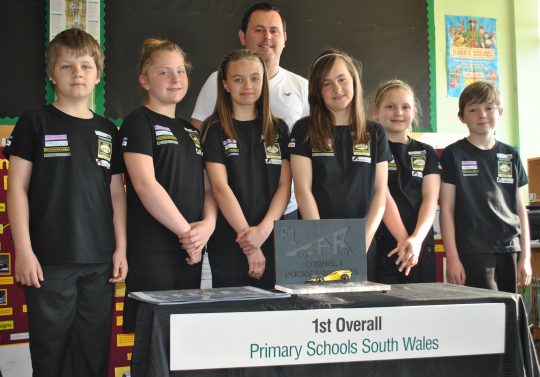 A Bridgend primary school has won the regional heats of the F1 Schools Challenge. Corneli Primary School will now represent Wales in the finals of the competition in Birmingham next month.
The formula 1 schools challenge invites primary and secondary schools from across Great Britain to compete in multi-disciplinary challenges. The challenge aims to inspire students to use IT to learn about physics, aerodynamics, design, manufacture, branding, graphics, sponsorship, marketing, leadership/teamwork, media skills and financial strategy, and apply them in a practical, imaginative, competitive and exciting way.
Teams are judged on car speed, as well as supporting evidence of their design, verbal presentation and marketing display stand in the pits.
Speaking of her joy at the schools success Jan Battrick, Head Teacher at the school said: 'We are very proud of the children from our F1 in schools team and absolutely delighted and overwhelmed by the generous support we have received from all of our sponsors.'
Spanning in age range from nine to nineteen, the main objective of the competition is to help change perceptions of key curriculum areas such as science, engineering and technology.
By creating a fun and exciting learning environment, it is hoped youngsters will have an informed opinion about career options within this area.
One of the key sponsors for the school – New Directions Education Ltd fully supports Corneli in their pursuit to bring back the silverware.
Having raised nearly £200 to see the team on their way, Rhian Vernall, Senior Account Manager comments: 'We are delighted to be supporting the Corneli team in the finals of this exciting competition. Working in an environment where we are in daily contact with teaching staff and schools we are only too well aware of the issues facing the key STEM subject areas – science, technology, engineering and maths. We will be baking cakes, rallying the troops within our office to raise the well needed funds to get the team to Birmingham this June."
Teams compete regionally, nationally and internationally for the F1 in Schools World Championship trophy. This year's final will take place at Birmingham NEC on the 27th June.
For more information about supporting Corneli Primary School with sponsorship, please call 01656 754870.
‹ Previous article
Next article ›